Hi Friends of  JACK! 
My name is Stacy Best.   I am an American ex-pat living in Lubumbashi.  I have been volunteering at JACK for approximately 3 months.  I am a Registered Nurse but am not currently practicing here in DRC.   My daughters came home from school one day and told me about JACK.  I contacted Roxane to see if more volunteers were needed.
 I assist with the morning bottles Monday through Friday and with the evening bottles Tuesday through Friday.  There are four of us that feed, two nannies, myself, and another American ex-pat, Kori Howard.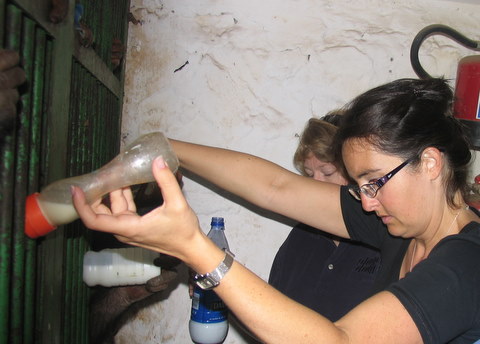 Feeding time early in the morning: it must go very fast as the orphan chimpanzees are not patient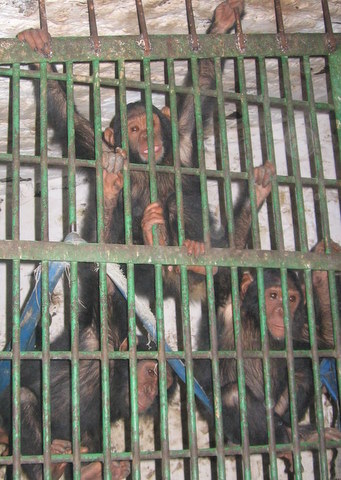 When we first walk into the feeding area at 0730 the chimps are very vocal and anxious for that first bottle of warm milk.  It's a bit overwhelming to the senses!  All those arms reaching out and each one of them wants to be first. Chimpanzees are not patient.  We initially hand out each of the labeled bottles that contain warm milk and yogurt.  When the chimps are finished drinking their milk, they hold out their empty bottles for a refill.  Some drink two bottles, some drink three.  Some of the chimps, especially Shasa and Jacky, try to steal others' bottles as well!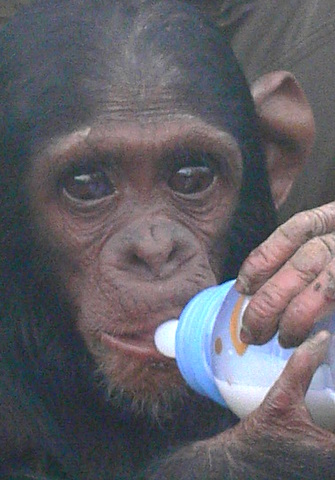 WANZA
Zamba and Wanza drink out of bottles with nipples. 
ZAMBA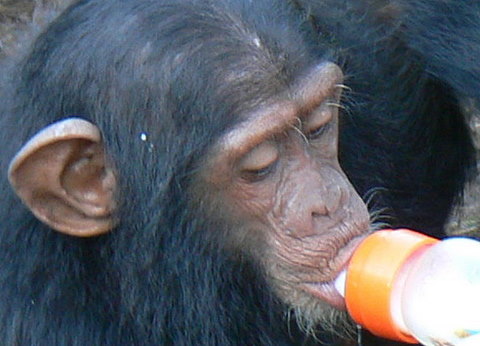 The rest of them drink out of plastic baby bottles without nipples.  When they are finished with their milk, they just drop their bottles.  Sometimes there is still milk in the bottles and they like to watch the milk pour out.  I have come out of the morning feed with milk in my hair, on my shoes, and down my back.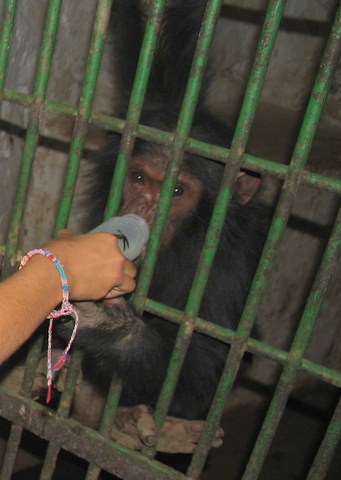 The morning feeding takes less than 10 minutes.  Once feeding is finished, one of the nannies goes out into the enclosure and Kori and I stand on an observation ledge while the chimps are released into the outdoor enclosure.  We then observe the chimps for injuries.  We can see if one of them is favoring an extremity while playing or walking with a limp.  It is easier for me to identify the chimps while they are outside.  They all have very distinct personalities and behaviors.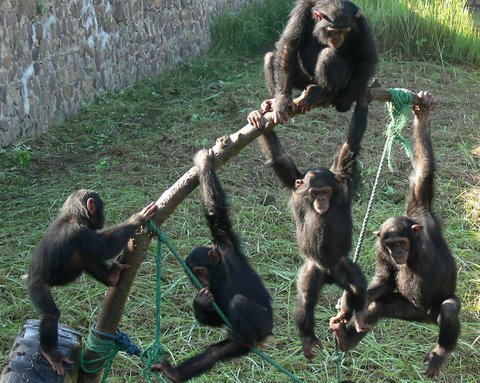 Enjoying the first sunbeams of the day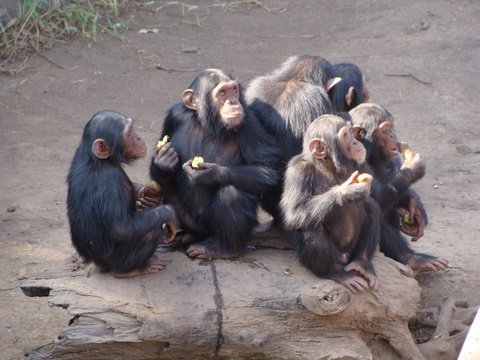 In the afternoon my daughters, ages 13 and 11, also help with the feedings.   They have specific chimps that they feed.  One feeds Zamba and one feeds Doguy.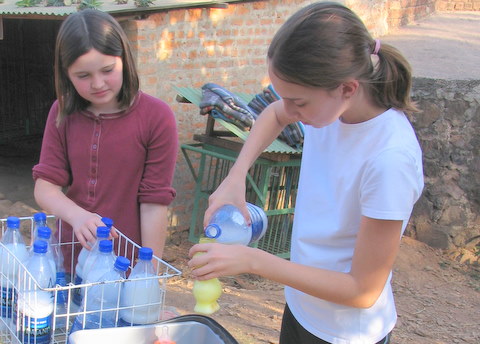 After the evening milk, the chimps are given their fruit, vegetables and bread in the nighttime enclosure.  It is very interesting to observe their behaviors while eating.  For example,   Wimbi likes to eat all the bread.  He takes as much as he can hold and sits in the corner eating it.  Jac, on the other hand, likes to sit in the middle of the food.  The last activity of the afternoon feeding is the passing out of blankets.  Chita and Seki start whining if the blankets are a little late being handed out.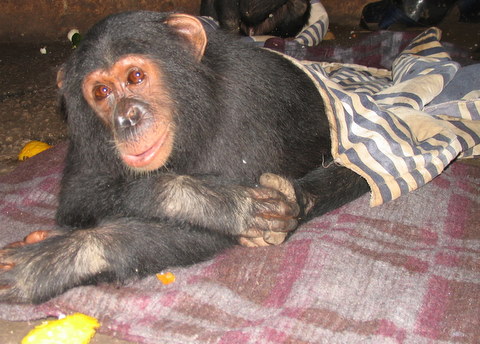 Chita whines too much if his blankets aren't ready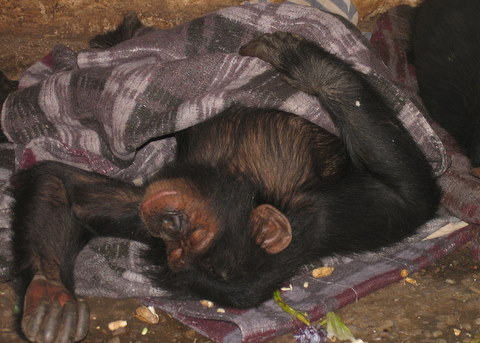 My family and I are very proud to be associated with the work that JACK is doing.  Not only are we volunteers, but we have adopted Zamba as well.  Roxane and Franck work tirelessly to help the chimps and every bit of help they receive is appreciated.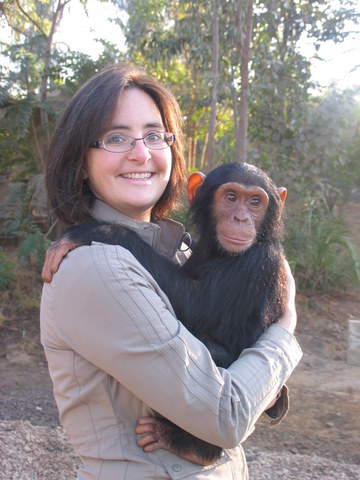 Stacy