Good news for today!
Little Tongo and Jane have been successfully introduced into the main group.
Just a few days ago, both chimps left their quarantine enclosure. Jane was so happy to jump into Franck's arms for transfer. But, baby Tongo refused to quit this place that had become his for the last 3 months! None of us could take him nor even hug him – Franck had no oher choice than slightly sedating him …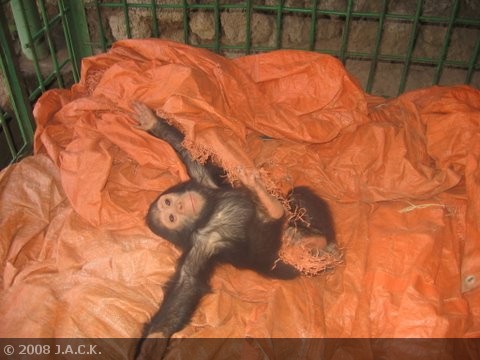 Tongo sedated
When Tongo woke up, he was in a bigger place. At first, Christian stayed with him in his new enclosure …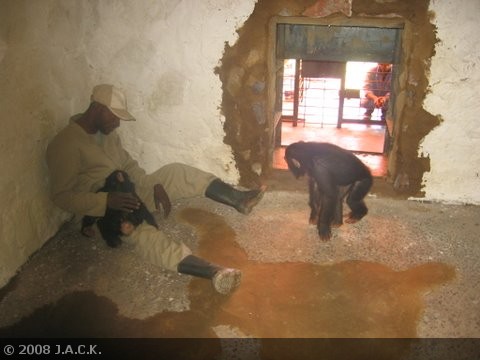 …and then, Jane came to fetch him as if to introduce him to their new home…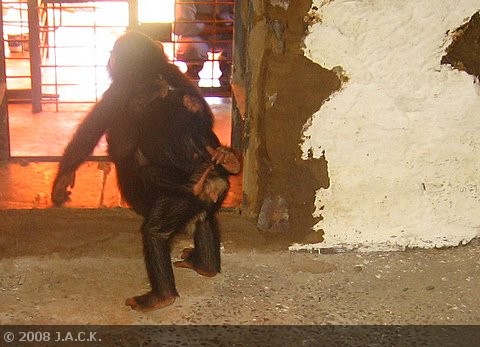 It took some time before baby Tongo adjusted. He is still so small and sensitive – we really had to proceed gradually!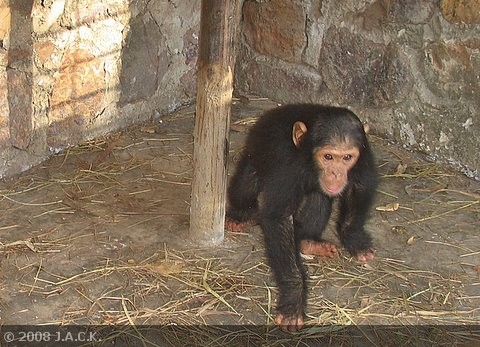 While being in this  intermediate enclosure, Tongo and Jane could see the group, smell and even touch the other chimps.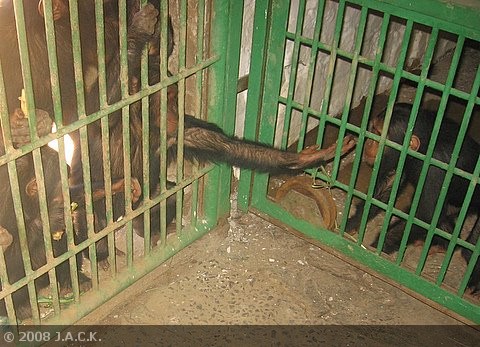 Chita, Seki, Shasa, Jac and the other ones also went through new experiences as it was the first time presentations were done in such way.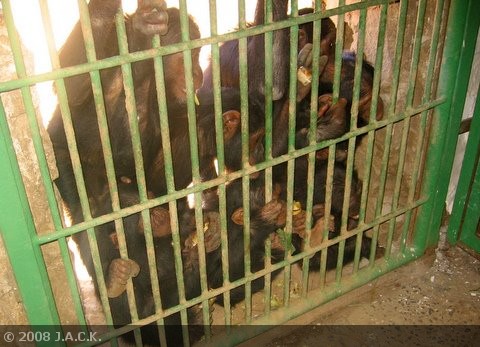 the group staring at the two newcomers
Thanks to Francky's constructions, no human being has to intervene  during the introduction of newcomers. Enclosures have been built next to one another – only gates have to be locked or unlocked…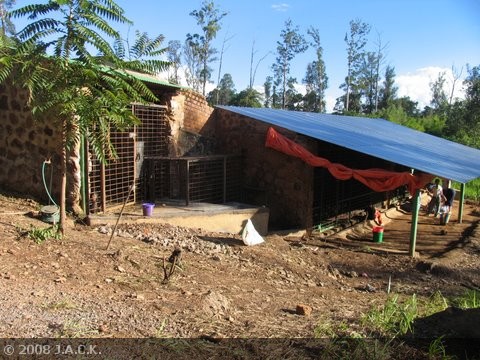 New constructions: on the right, night facilities where the group goes every nights and, on the left, the intermediate enclosure where newcomers stay for introduction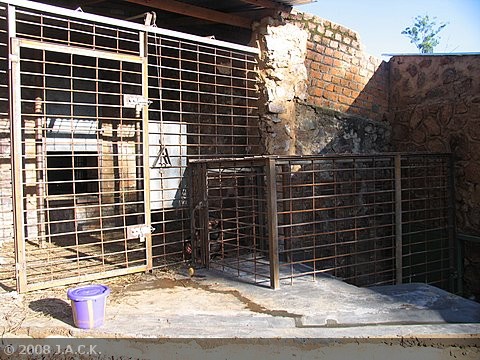 D-Day arrived for the real meeting. It took a few hours before everyone calmed down. Most of the chimps of the group were excited which scared Jane too much. As a reaction to this, the young female abandonned little baby Tongo and didn't protect him the way we had expected.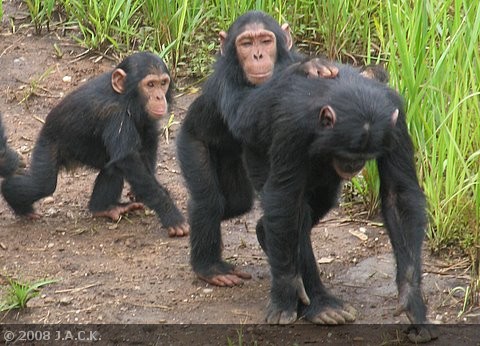 Jane  (middle) leaving Tongo (left) behind
However, two chimps of the main group, SEKI and KINA,  helped us  a lot. SEKI played an important role: he is the one who protected JANE. She was hanging on to his back all the time and no one was allowed to approach her.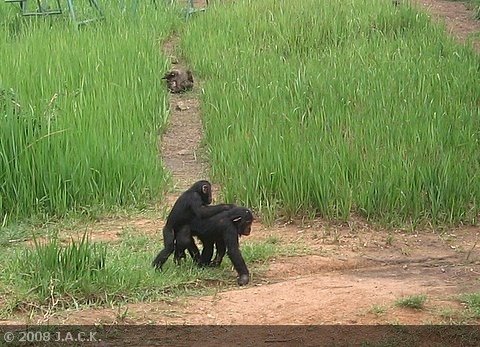 Jane hanging on Seki's back 
Lost, Tongo didn't know what to do.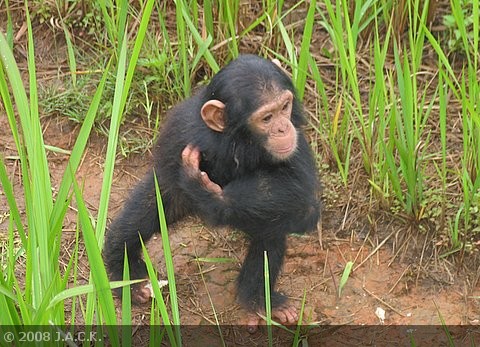 He walked and walked through the main enclosure.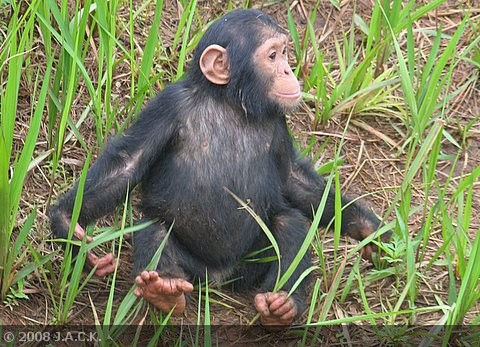 It is KINA, a young female, who couldn't stand seeing Tongo like this. That's why she always stayed behind him. Sometimes, she even tried to hug him, to come closer…but Tongo wanted JANE….Despite being rejected, KINA kept on having an eye on the baby one and didn't let the others come and beat Tongo.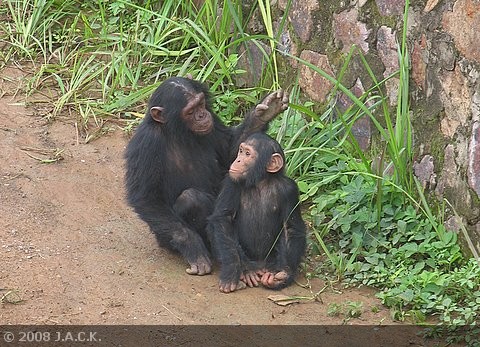 Kina wanting to hug and touch Tongo
At the end of the day, when all the chimps were entered in the night enclosures, SEKI immediately showed Jane AND Tongo his nest. The other chimps were not allowed to come too close.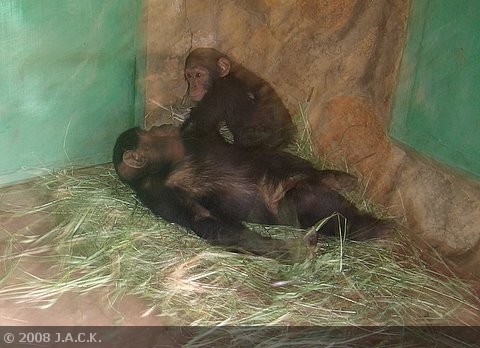 Tongo in Seki's nest 
Today, both Jane and Tongo have settled down. They are now accepted in the main group – especially little Tongo who is being spoiled as most of the chimps of the group do want to carry him on their back. Seki is no longer « over » protective and there are no fights anymore.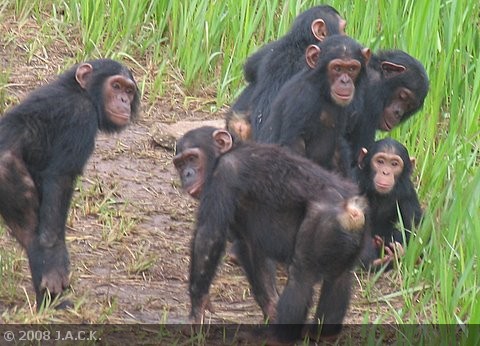 Tongo is the little one with the pale face on the right and Seki is the big chimp behind him. Kina is completely on the left and in the middle of the picture is our friend Jac
Because Tongo is the smallest chimp ever introduced, Franck and I were afraid something would happen to him. Fortunately, all went well. This experience is another step forward for JACK and encourages us a lot : Kimo and Mapima will have to be introduced as well and we will not wait untill they are two years old!!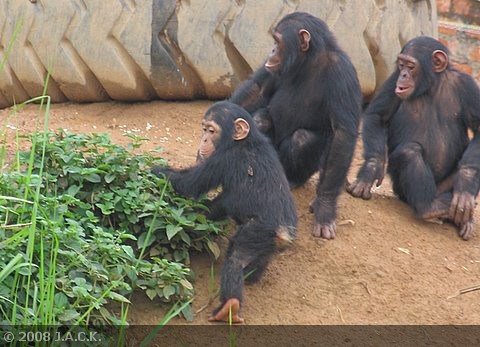 Tongo in the middle
JACK wishes You a Merry Christmas and all the best for this coming Year,
Roxane, Franck, JACK and the Chimps