Hello there friends of JACK!
This is the swedish volunteer Josefine writing. I have been here volunteering since the 9th of november this year (2008).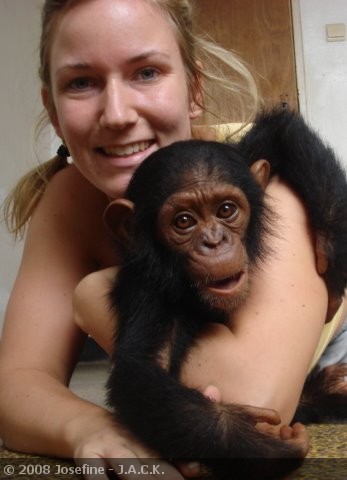 Kimo & Josefine
Ever since i were a little girl my biggest dream was of course to work with animals and if possible – wildlife. I went to the gymnasium/highschool for three years and did the course for animal care. Since then i have been working with animals in several places. Milking cows in different dairy farms, did some vulonteer work with orphan cats and i have been working as an animal keeper in Furuvik ZOO – Sweden for 2 seasons. (third is coming)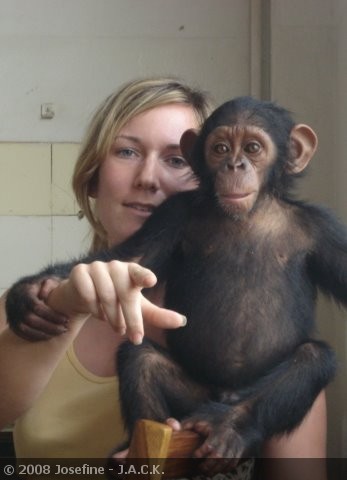 Josefine & Kimo
All these are amazing experiences that i will never forget, but to get the oportunity to travel to DRC – Democratic republic of Congo – and be the first internetional volunteer in JACK is something unique. To be able to assist JACK in there incredible work with orphan chimpanzees: it's really something! I have started blogging since my first contact with Kimo and you can read my experience on www.yusa.blogg.se/kimo/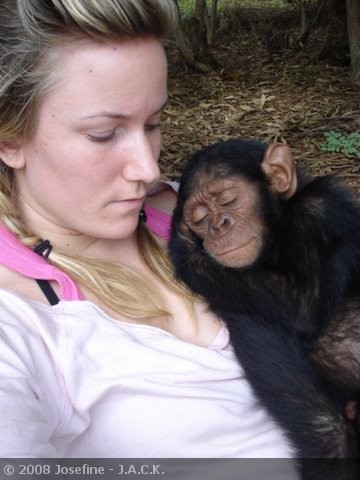 Kimo sleeping
Have you ever had that kind of dream you know will never come true? Those dreams wich are only there to help us struggle and keep on going…. But you know what, life is FULL of surprises. Now i am here in DRC in Afrika, on the other side of the world, holding a babie chimpanzee (even two of them! )  in my arms every day !
Kimo (top) and « Santa » (below) who used to be called « Mapima ». Franck decided to change her name and to call her after Samantha, a friend living in Goma and who has saved two chimps (Tongo & Mapima) and sent them at J.A.C.K.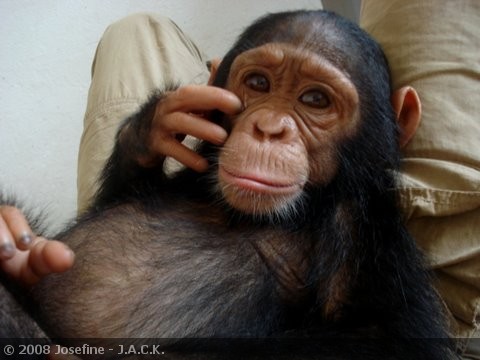 I want to tell you one thing….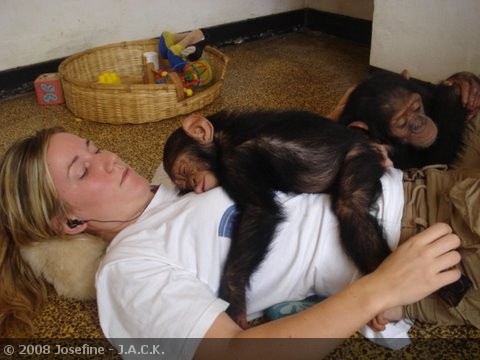 EVERYTHING is possible!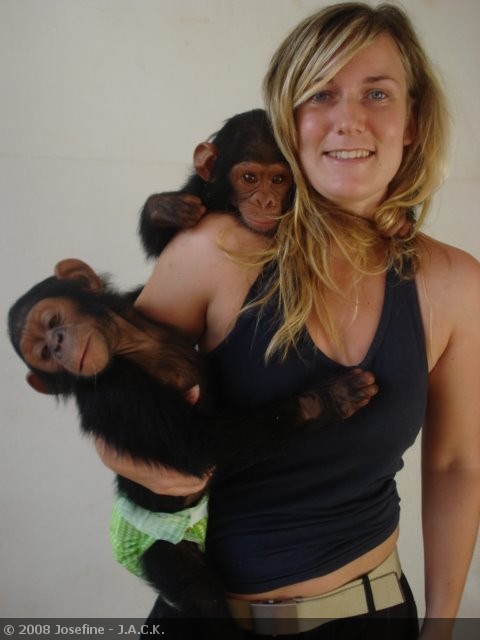 JOSEFINE, December 2008