Hi Friends of J.A.C.K.
Now that 2009 is completely over, I wish to send YOU all our Best J.A.C.K. Wishes for this Year 2010 !
Today, I'll share the first picture taken at our J.A.C.K. complex : the introduction of little Rosie in the baby group!
Yes! She made it!  And Santa was always behind to protect her…..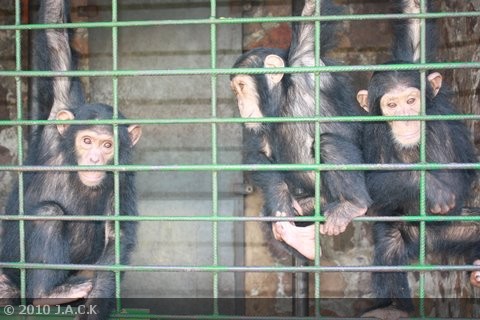 !
Pasa (left), Rosie (middle) and Dian (right)
The J.A.C.K. baby chimp group is now made of 7 little ones aged between 1 and 1/2 and almost 3 years old.
Another surprise, the first 2010 footage : Pundu playing with his best friend Gismo, the cat… Enjoy!
[kml_flashembed movie="http://www.youtube.com/v/QpRDikrhJ7Y" width="425" height="350" wmode="transparent" /]
Franck and I thank you all for your encouragements and support given in 2009 and hope you still will be with us in 2010.
We also want to thank each member of our precious team. They worked hard in 2009 and some  even have assisted us instead of taking their days off. Papa Augustin, Mama Maguy and all the others,  thank you for your Devotion and for the Love you have for these wonderful babies…
A  PROSPEROUS  NEW  YEAR  TO  ALL  OF  YOU!
Roxane