Hi Everyone!
As to definitely say goodbey to the year 2009 and to end  on a very good note, Franck & I wished to share this particular event with you!
You all know that J.A.C.K. takes care of chimpanzee and galago orphans. This time, J.A.C.K. wanted to do something different. This time, J.A.C.K. decided to organise an unusual event for  young Congolese orphans.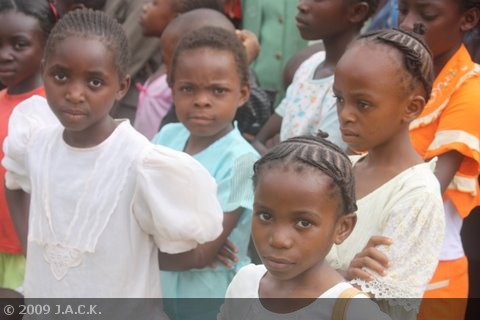 That's why, on December 24th, about 100 orphan children from Lubumbashi were invited at the J.A.C.K. complex for Christmas.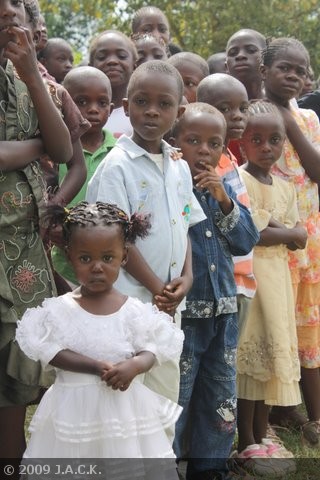 Madam Thérèse Lukenge Kapibwe, Provincial Minister of Education, Youth, Scientific Research, Woman's condition and Family,  had also been invited to participate at the event ….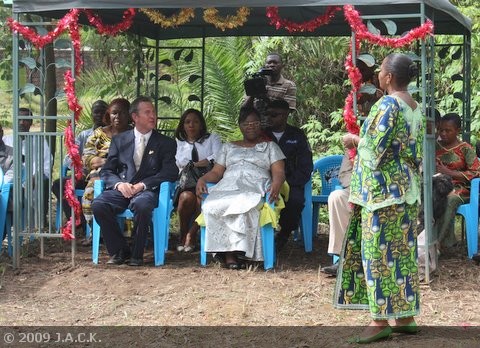 and so were the medias.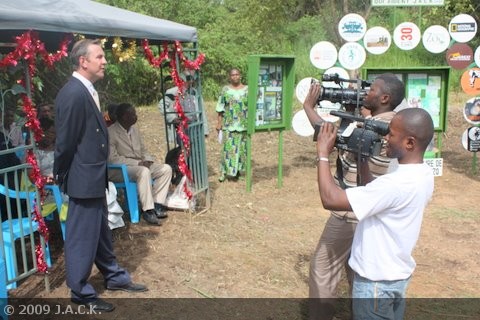 The children sang and seemed happy to be at J.A.C.K.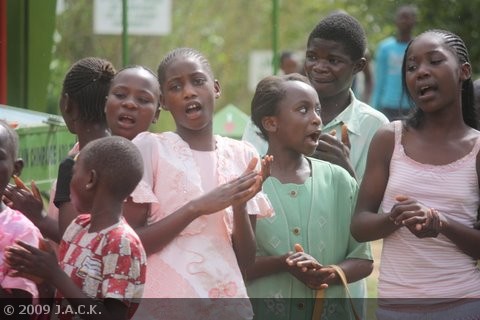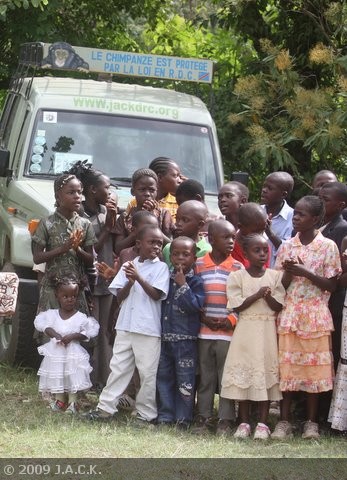 Most of the faces changed a few minutes later when Father Christmas arrived with his hands full of presents!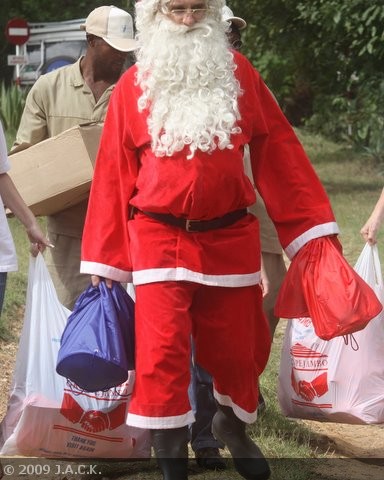 Curiosity but also…. fear,  happiness and joy was seen on every faces…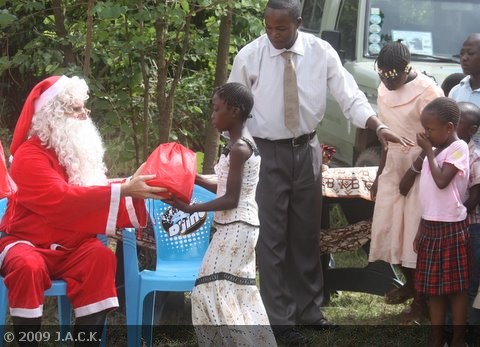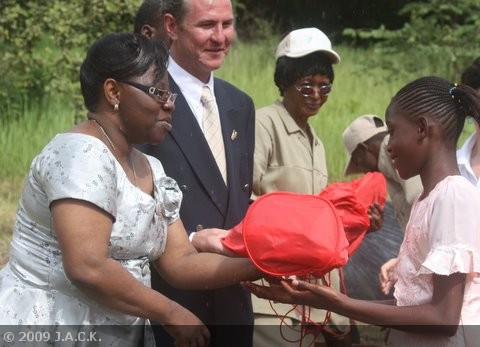 Each child received a Christmas present which was a red bag full of toys, cookies and school items.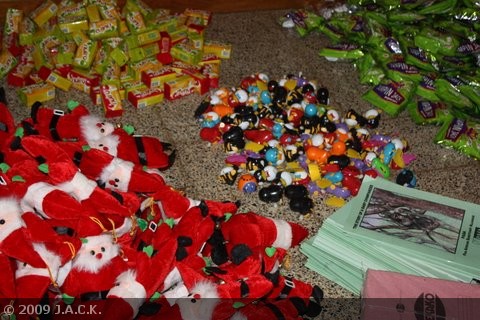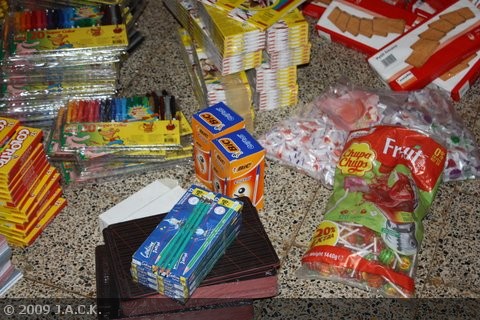 Later on, a Christmas lunch was offered to all of them!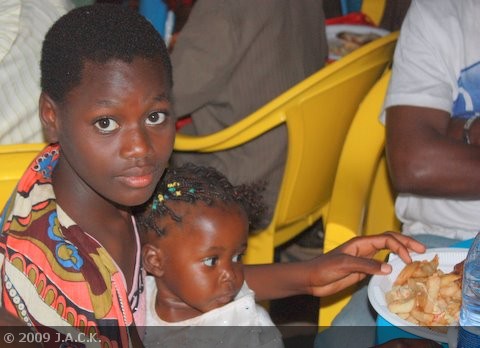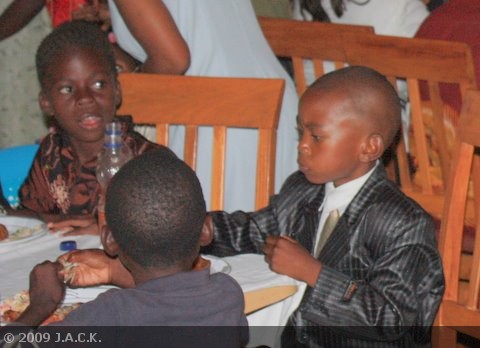 But we insist on the fact that our small NGO couldn't organise this all alone. We had good friends and local donors assisting us . But there was ONE main local sponsor whose generosity has been without limits: the Trust Merchant Bank.

Thanks to the TMB Bank, J.A.C.K. has been able to offer a few moments of joy to orphan kids as for most of them, it was the first time they had met Father Christmas …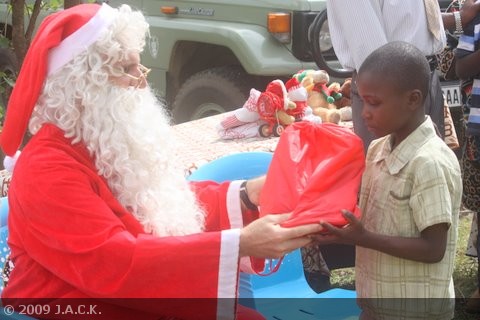 Thanks to the TMB Bank, J.A.C.K. organised a big lunch for all these excited kids who are not used to have Christmas parties…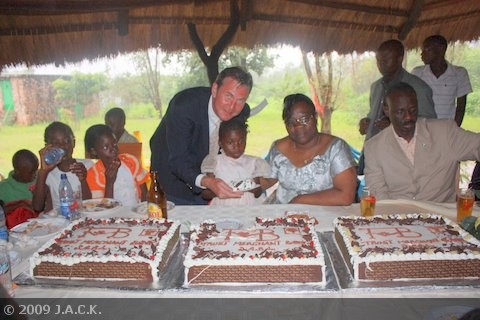 Thanks to the TMB Bank, J.A.C.K. has been given the opportunity to make more people aware about what is going on with Great Apes in the DRC as these  children of today will be the leaders of tomorrow!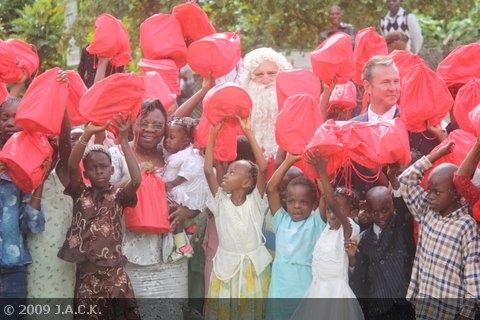 Great thanks to the TRUST MECRHANT BANK for this wonderful support! It was appreciated by everyone especially by the kids!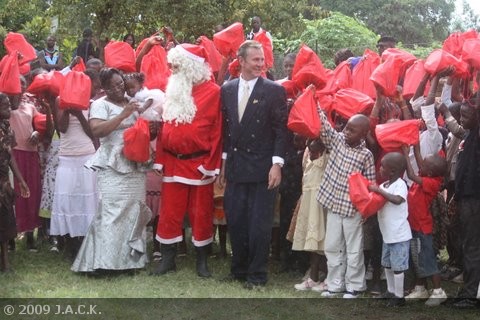 Also, we keep on reminding you that J.A.C.K. is a small NGO and that we need your help to continue taking care of the 29 orphan chimpanzees of the Refuge. J.A.C.K. must develop its education program. 3 new chimpanzees are due to arrive soon from Kivu. J.A.C.K. hasn't collected the funds necessary to build the extra quarantine enclosure. Please, if you can, donate now… 
Thank YOU for THEM!
Roxane & Franck