Hi Friends of JACK,
Sorry for this delay in posting…
Last week, we had flu again at the project. And this time, it happened because a visitor -again! – had thrown into the main enclosure a can contaminated with a very tough flu virus. The chimps fell terribly sick and one after the other joined the quarantine area! Too bad! I had to give antibiotics to some of them as  flu turned into severe bronchitis.
Flu contaminated the Kivus as well as little Santa and Kimo. Because Santa was too bad, Papa Augustin (Santa's carer) decided to treat her without consulting us. He gave her one complete spoon of Amoxicillin and in a few hours time Santa didn't move any more, could hardly breathe and her heart was beating too fast. Jean-Claude, our Congolese vet, was called in emergency and gave her the first treatments. I spent 48hours observing Santa day and night as she was too bad. Her breath was horrible : it seemed to be too painful to her to take deep breaths…Santa has showed a clear allergy to Amoxicillin and now we know she must have other medication in case she's too sick!!
Today, one week later, Santa is doing a lot better although still very tired. She starts playing again and is eating more and more. Her face is extremely pale – you can see she went through difficult moments.
Santa
But now it is Maïka's turn to be too bad. For the last two days, this little one has had high fever and blood in her stools. According to the first lab analysis, she has got too many white cells and  Maïka might have ulcers in her intestines or somewhere else… so, she started a particular treatment yesterday night. Maïka hasn't eaten nor drink much these days and has lost weight already. She's very small, young and thin and I do cross my fingers she'll get better very soon.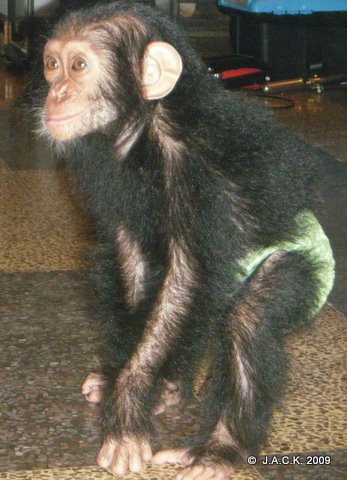 Maïka
I'll keep you posted,
 Roxane