Sorry I didn't come back earlier, too many issues these days…
As many of you know, at Easter,  the orphans of J.A.C.K. had a real good time!
But before I give you more details and pictures, you must know that our « Easter bunnies » had a great time too! Early in the morning, Fabienne, Mirko and Sandrine came to display all the Easter enrichment items they had prepared the day before.  The 3 « bunnies » were over excited and too happy of the joy this particular enrichment was going to provide!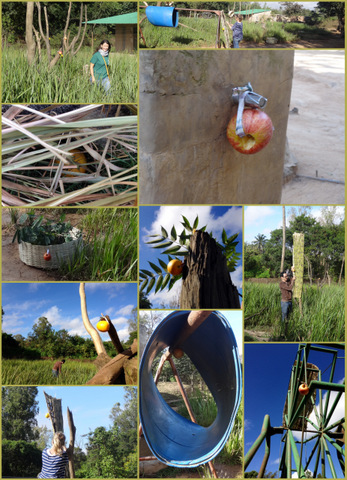 Then, the gates were opened, and first of all, the chimps grabbed the fruit that had been neatly fixed onto the baskets and the bamboo mats.
When there was no fruit left, they started to be interested in the baskets. They knew the bamboo mats already, but these new enrichment items intrigued quiet a lot of the chimps and, once they understood they could sit inside, or put the baskets on their heads, or hide under the bigger baskets…then, baskets had no secrets any more!!!
The chimps found all the extra apples and oranges that had been hidden all around the playground….
… and some of them had great fun with the bamboo mats too!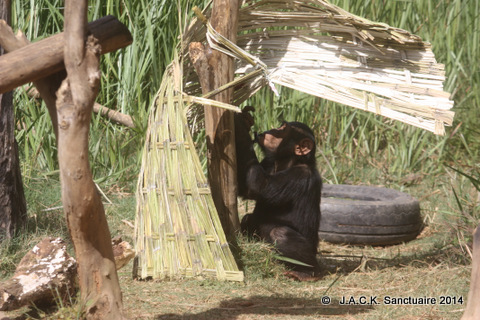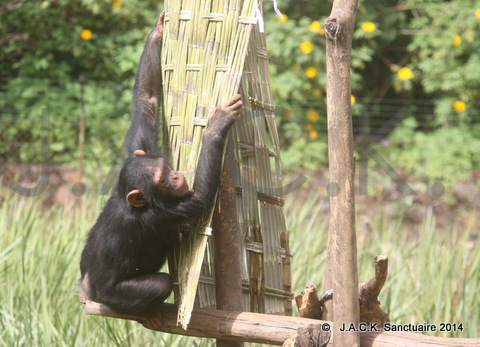 As you can see, the chimps really enjoyed this special which and again we would like to thank the « Easter Bunnies » (Fabienne, Sandrine & Mirko), Julia who came the day before to help, Jean who delivered us the mats and baskets on his bicycle and also the friends without whom the event wouldn't have taken place : Laurence D, Alain S, Fran B, Eva C, Véronique T, Christine & Kevin C, Eva D, Kelly J and Catherine M.