Dear Friends of JACK,
Haven't been posting for the last days and really apologize!!
All is fine at JACK and Franck came back last week from the US where he had positive meetings and contacts.
Today, I want to share this particular event: a huge donation, again!
Yes, as since its early beginning, JACK has been closely followed and advised by a good friend, Simon HICKS, chairman of a British Charitable Trust « Conservation Works » which aim is to give advice to projects that put endangered species first while setting up a knowledge base that evaluates, analyses and informs 'what works' in Conservation.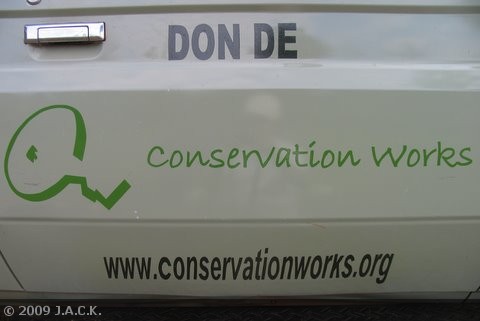 Both Simon and his wife are working in Conservation Programs and we met them in May 2006, just after JAK (the first baby we started with) had been seized by authorities.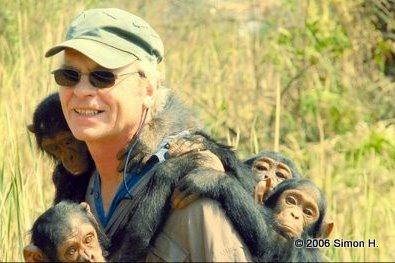 Thanks to Simon, our NGO has established particular links with the Congolese Government. A Consortium has indeed been set up between the DRC Government, para-statal organisations and JACK. That's the reason why JACK doesn't work alone. We work with the Ministry of Environment (the only people empowered to confiscate wildlife), the Congolese Botanical and Zoological Gardens (who host the JACK Refuge in the Lubumbashi Zoo) and the Congolese National Parks as the aim is to release the chimps in areas protected by ICCN.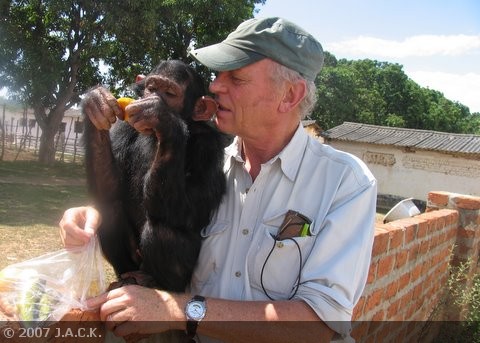 Today, Simon is no longer staying with us in Lubumbashi and because he moved to Nairobi, he decided to donate our NGO his car as a sign of friendship and collaboration between Conservation Works and JACK.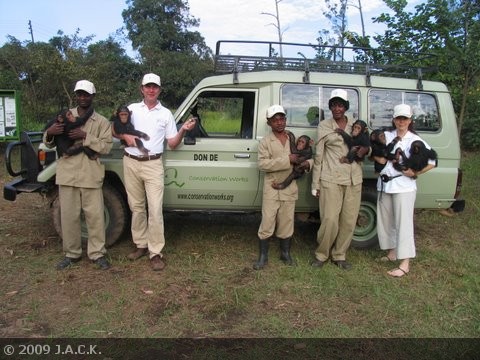 We are most grateful to Simon and his Charity for having donated this car because JACK didn't have any.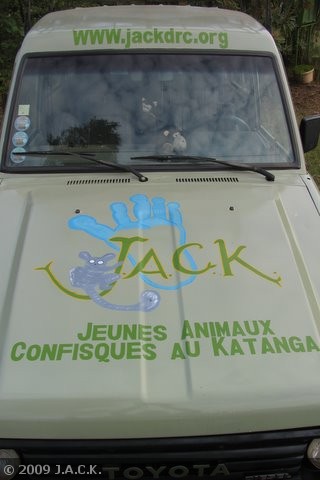 As to mark the occasion, the Trust Merchant Bank  (TMB) in Lubumbashi without whom  J.A.C.K. wouldn't have existed decided to create an exceptional sticker.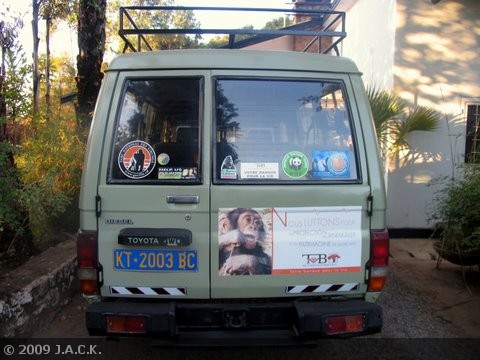 Being our main sponsor, the TMB wanted to share its commitment in the Protection of the Congolese wildlife through this sticker which also shows JAK, the first little one we started with in April 2006 and who was assassinated a few months later by saboteurs…
Merci à la TMB et à toute  son équipe pour son soutien tant moral que financier! Grâce à vous, J.A.C.K. arrive à réaliser de grandes choses!!!

Baby Maïka on the picture with us
Also, before his departure, Simon wanted to give Franck a very particular present: a book that had belonged to his family and which is (we believe) one of the first books ever written on pygmies or chimpanzees (1739). A wonderful present too!
Thank you Simon and Karen for all that kindness and for encouraging us. Your friendship is precious and although you aren't in Lubumbashi any more, collaboration continues…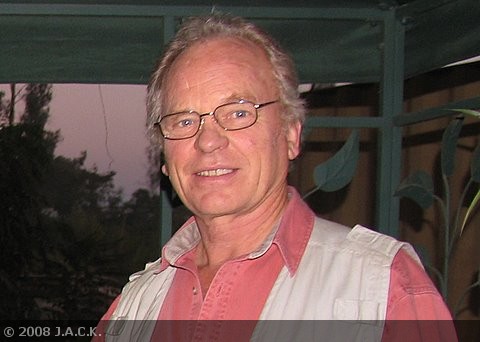 Roxane