Dear All,
Yes, you are right Theresa and Sheryl, when you say Faustin is an Angel. He has saved Santa but Faustin has also  brought and given so much love and care to Tongo, Santa/Mapima and to the 'Kivu 4'. Faustin is a very interesting person  and we at JACK are extremely grateful to him for all that good and excellent work he has always provided.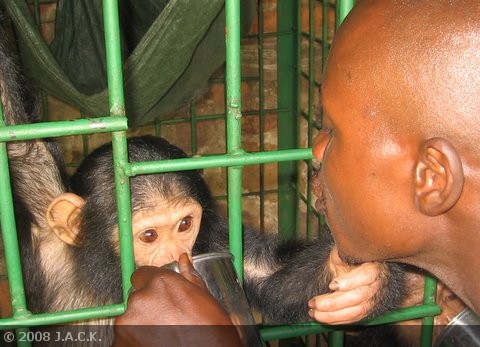 Faustin and Tongo the first baby chimp he flew with from Goma (August 2008)
For this new rescue mission, Faustin was due to stay 3 months at JACK in order to help us with the 'Kivu 4'. But, unfortunately, he left early this morning because his father died last week and because he had to go back to Goma to fix several family problems.  Maybe he'll come again to Lubumbashi next month… nothing is sure yet…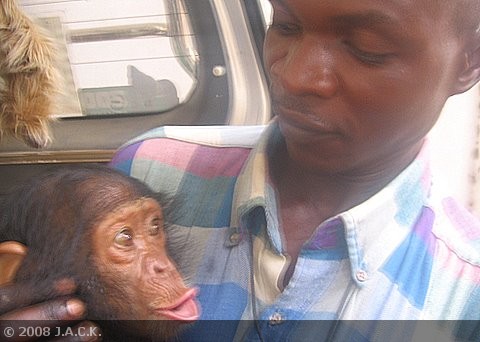 Faustin arriving from Goma with Santa/Mapima (November 2008)
So, Papa Augustin and Mama Maguy and Mama Angeline are now taking over Faustin's job at the quarantine and it isn't that difficult any more as Africa, Dian and Pasa have adjusted to their new environment and are now used to our surrogate mothers.

Faustin and baby Maïko who died
Thank you again, Faustin! Encore merci pour votre merveilleux travail!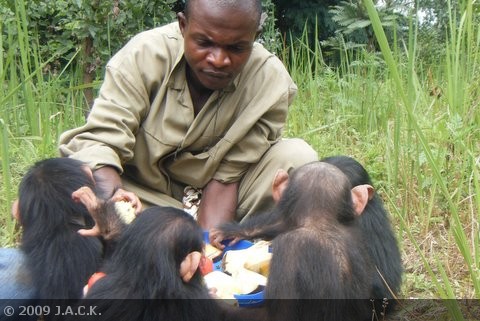 Faustin with Maïka and the 'Kivu Four'
We hope you'll come back very soon!
Roxane