Dear All,
Our complex is located in the Lubumbashi Zoo and is in some way particular because our NGO has used abandonned enclosures of the old zoo to start its Refuge.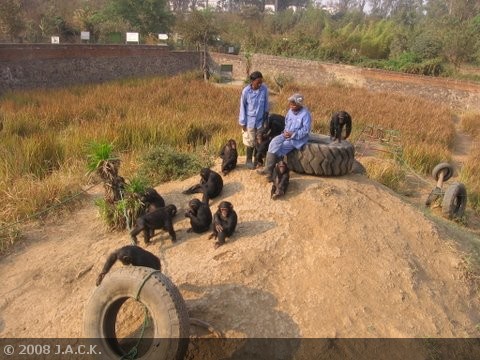 JACK was created two years ago with 3 chimpanzee babies. Today, there are 17  orphans and the infrastructure has to be adapted to the growing chimps of the Centre.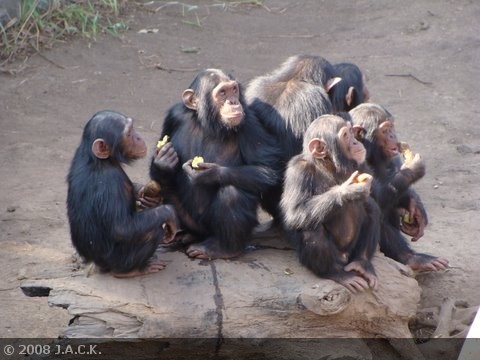 Our friend, Franck, is coming back next week in order to build better night enclosures for the chimps. These constructions will be possible thanks only to the support of a lady I already spoke about, Mrs. Ing-Marie Persson of the Sweden Chimpanzee Trust.
We only have a few weeks to do all the works as everything must be ready before the rains start ie end of October. So, the coming weeks will be extremely busy and it's a good thing our friend and Animal Advisor of JACK  is coming: my husband and I are completely overloaded !!!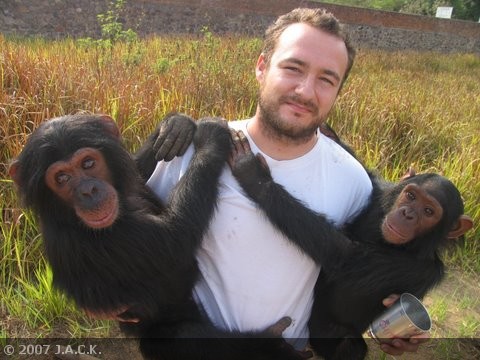 Franck with Chita (left) and Jacky
Franck has decided to come because he knows we need help. His stay with us is very important: his previous experience will enable us improving the Refuge infrastructure and organization.
Franck also left his job and paid the ticket (USD 1900) to fly to Lubumbashi. JACK wished to pay that for, but couldn't afford paying…. With the two latest chimps coming, we have had  many expenses. And today, I need your support.
Yes, could you help us in paying Franck's ticket back? This would be great and extremely helpful, really… Thank you !! 
Now, before ending, let me give you some news about Tongo and Jane. 
As you know already, Faustin had to go back to Kivu leaving little Tongo behind with his new sister, JANE.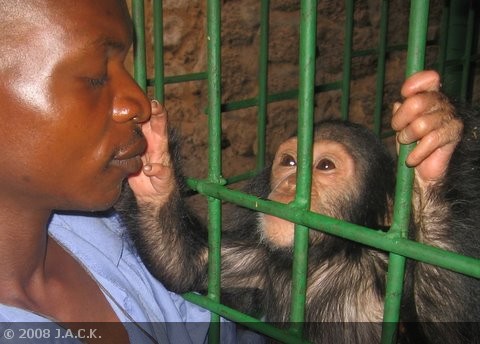 Faustin was very sad last Thursday. Tongo was his baby and since he left, Faustin has called us many times  to get some updates on the two little ones.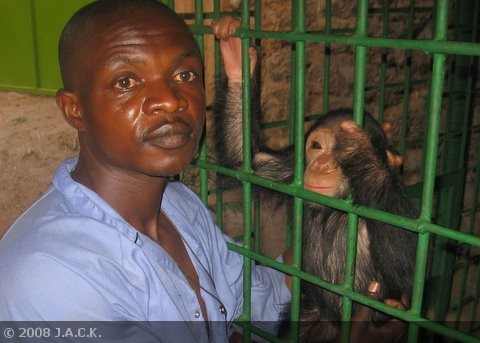 JANE takes good care of her brother but very often teases him and sometimes prevents him from drinking his milk. She is very funny and behaves that way to have our full attention. This is a normal attitude especially for someone who has been locked up for two years alone in an old 4 x 4…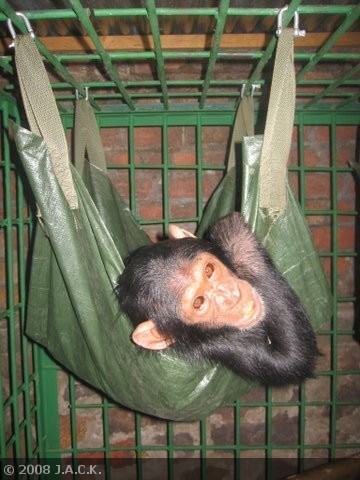 On arrival, two weeks ago, Tongo ate bread and had milk three times a day. Because of the parasites he had, he didn't eat very much and had no appetite.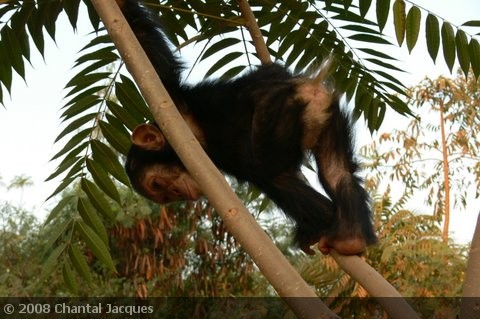 Today, he's asking for more milk (every 4 hours) and eats bananas, apples, carots. This is a good thing !!
Dear friends of JACK, thanks for the donations recently given – just remember that your aid is essential for the continuity of the Refuge.
Roxane