Another seizure!
Yes, dear Friends, J.A.C.K. has welcomed 3 new babies in nearly 3 weeks time and this represents a lot!
Joma had been seen in Lubumbashi some days ago by local authorities. His cage was high above the wall of his owner's house and any person passing by could see the young male on top of his enclosure.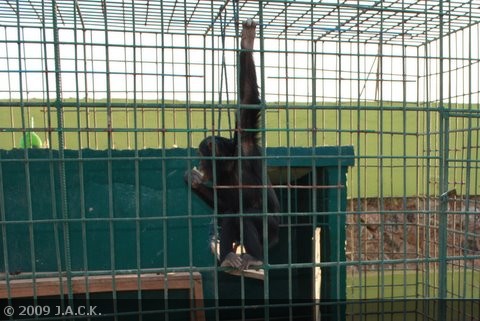 Joma is a young male of about 3 to 4 years old. According to the Ministry of Environment inspector who seizes all the chimps, this baby is one of the babies J.A.C.K. had heard about in 2006 and that had disappeared from the city shortly after investigation. It very often occurs that some animals are seen but immediately moved once inspectors start investigating and do their paperwork…
Joma's seizure is also the first one JACK has been allowed to film.
[kml_flashembed movie="http://www.youtube.com/v/sCiwqDRjTzg" width="425" height="350" wmode="transparent" /]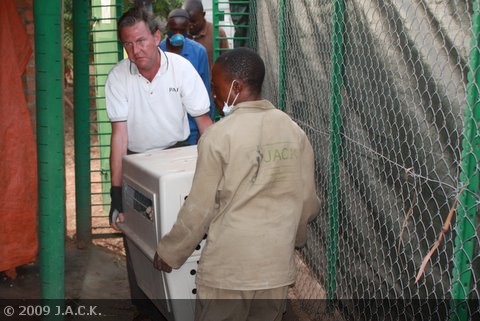 Joma is in good condition although quite thin. He eats everything, seeks contact at any time but isn't as playfull as Eliawho arived a few days ago.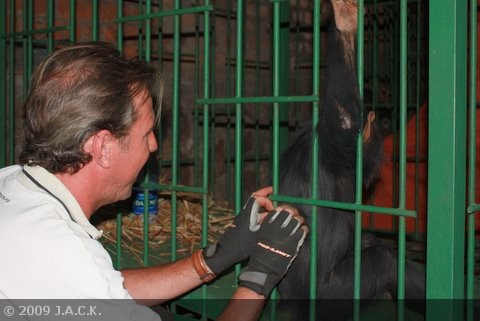 One thing though we are worrying about is his eyes. Joma had no roof on top of his big cage and since his arrival at the refuge his eyes have been crying a lot. Eye drop training has started in case he needs further treatment.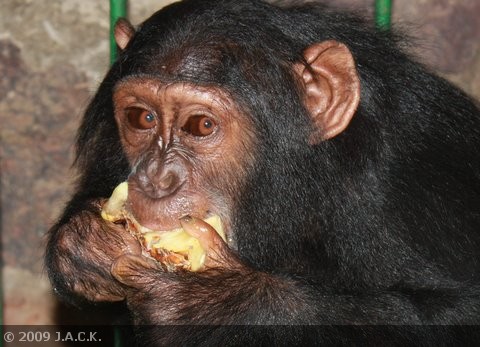 Thank you for reading us and for helping us – especially Theresa S, Brigitta S, Kevin C and Oliver T who kindly donate every month! Our Refuge now looks after 26 orphan chimpanzees and  our NGO J.A.C.K. can't work without your donations…
Roxane