Yes, dear Friends of J.A.C.K.,
Our sanctuary welcomed a new orphan the day after Kala's passing. Late in the afternoon a man came at the gates of our sanctuary with a young female chimpanzee. He came to hand over the chimp at J.A.C.K. as he had been trying to sell the primate for weeks and weeks in Lubumbashi without success. No one dared buying the chimp. In Lubumbashi people know these creatures are endangered, must be protected and not eaten nor detained in homes. So the man rather came to hand over the chimp as he was afraid it would die.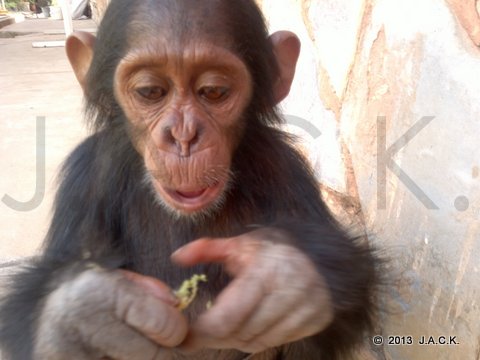 The baby was previously named 'Shakira' and the 'owner' had come with it from Kalemie (East Katanga) in order to sell the baby primate in Lubumbashi. The fact no one wished to buy the chimpanzee is a huge step forward for J.A.C.K. : it means our education action is working at each level since as well as DRC locals as well as expats refused to buy the young ape! DRC environment officials and police were called on post and the baby got legally confiscated from its 'owner'.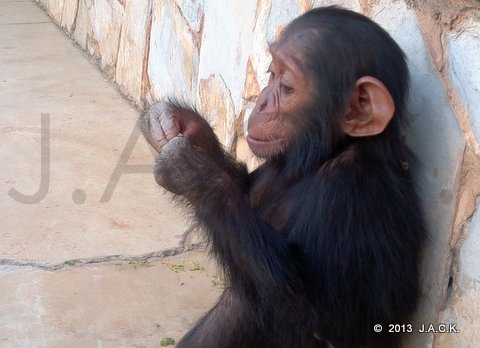 Since Kala had just gone, we decided to name our new little friend 'KALY'. She is about a year and a few months old, she is a bit dehydrated and malnutrished but she'll be fine. Kaly has already adjusted to her new life, she gets on well with everyone of the team and vocalises a lot with the other chimps at J.A.C.K. She is still isolated from the different groups.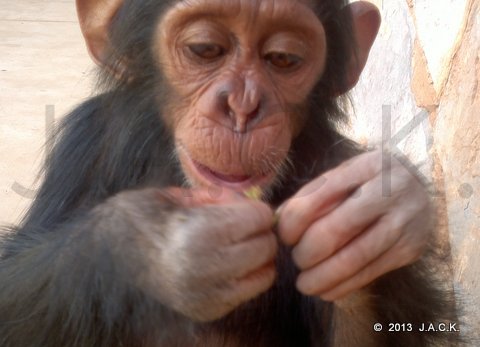 We will keep you updated,
Thank you,