On October the 30th 2021 while CEO & Founder of J.A.C.K., Franck Chantereau, was in Kinshasa with friend Adams Cassinga, (a passionate defender of the DRC wildlife and founder of  CONSERV'CONGO), he took part in a risky mission to investigate on a baby chimpanzee that was kept in one of the suburbs of the DRC capital.
Equipped with a hidden camera, Franck drove to the traffickers' den and got a terrible shock when seeing the poor baby chained to a motorbike, she was used for selfies, badly treated… The traders had named her « OBAMA ».
The little chimp jumped into Franck's arms which made th situation even worse since Franck was playing the role of a tourist that didn't know anything about apes… Franck was upset and very cross to see all this nightmare but couldn't say anything!
Before he left, Franck whispered into the ear of the chimpanzee « we will see each other again – I'll get you out of here! » A promise made with a broken heart but a promise that was kept since Conserv'Congo and the DRC Ministry of the Environment launched the confiscation process shortly after Franck's first meeting with the chimpanzee. « Obama »  was legally confiscated on November the 11th!
On the 27th of November, the baby chimpanzee arrived by plane in Lubumbashi and was driven on post to J.A.C.K where she had a first health check with our vet, Dr Christian.
A good end for a very bad adventure! This young ape has been very lucky she met Adams and Franck – which isn't the case of so many other primates that are poached, killed, sold and/or eaten on a daily basis. This is the reason why J.A.C.K. Founders are more determined than ever to stop this slaughter that empties our DRC forests like a devastating hemorrhage!
Today the baby is in quarantine and she will be introduced to others of her own kind after 90 days. She is getting all the love and care she needs to recover from all the trauma she has been through.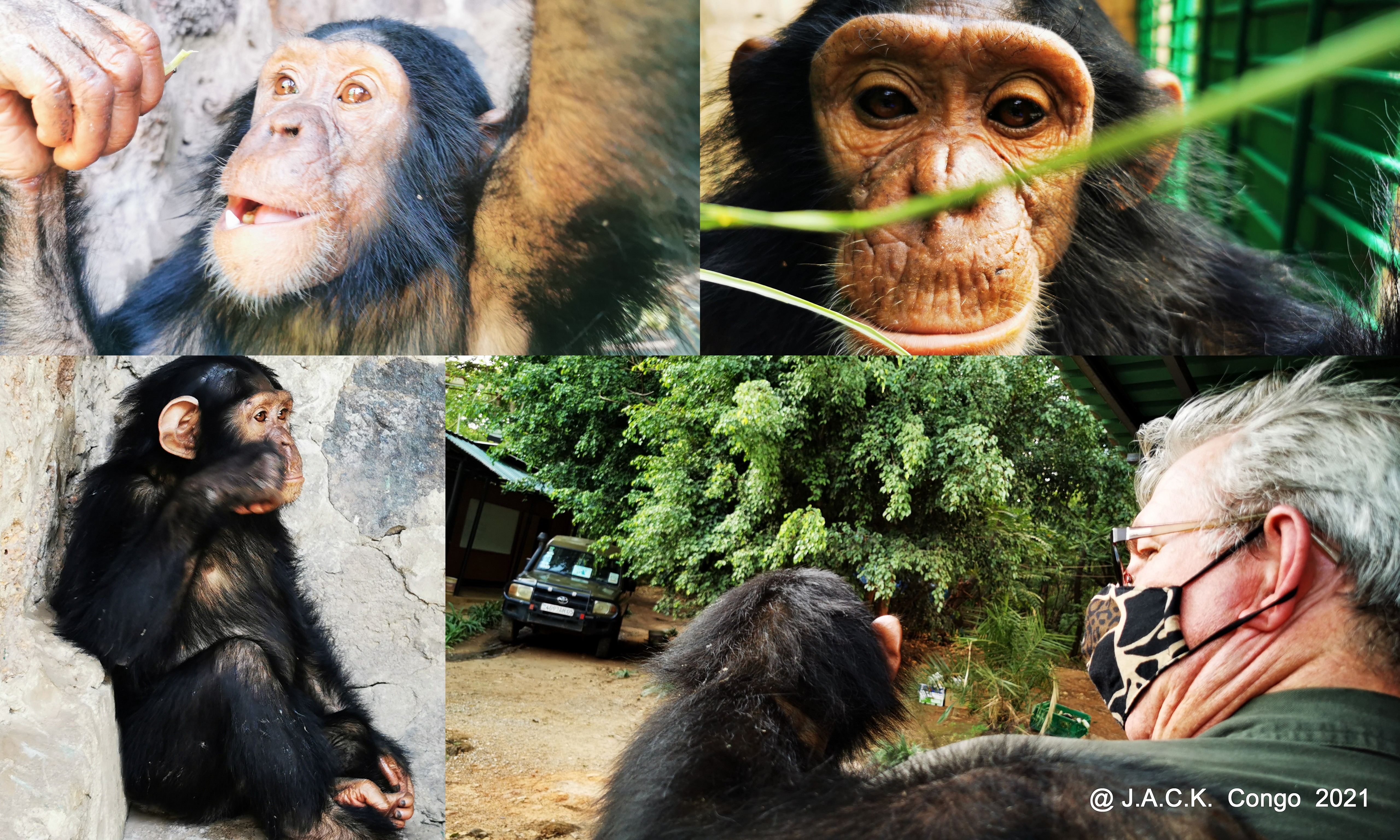 The horrible conditions she lived in have left scars on her body (she has signs on her back that show she was beaten up, her upper jaw  has been damaged and she has several broken teeth). Monga is a very resilient baby chimpanzee and she has now understood she is safe from harm – it took us some time to gain her trust!
Also, Obama's name has been changed in MONGA. When arriving at J.A.C.K., newcomers have their names changed and they are named after the person who helped rescue them or after a place… This info (as well as many others!) will only be given to the future adopters of our little resident. Her adjusting well depends on adequate food as she suffers from nutritional deficiency and needs a particular milk. Therefore, J.A.C.K. needs your support to cover Monga's needs; keep in mind that our sanctuary solely relies on your generosity  and that it cannot do all that it does without your support!

Before we end this article, we would like to thank all the people who have been involved in this amazing rescue: Adams and his brave Conserv'Congo team, the DRC authorities (the Minsitry of the Environment + the police) , the flying company that accepted to board Monga, the 'ICCN team of Lubumbashi which got the primate from the plane/airport and our incredible partner,  PRO WILDLIFE E.v. , which sponsored the confiscation, the rescue and the transfer of Monga !
MANY THANKS AGAIN TO ALL OF YOU! Our fauna and flora are destroyed daily in the name of profit. It s only if WE JOIN OUR EFFORTS that we can bring some changes for all these creatures still free and innocent in their forest.
And it is only TOGETHER that WE CAN MAKE THE DIFFERENCE!