If I can give you some advice, well, please, never leave things close to the fence: chimps are too curious and will always try to run away with your belongings !!
When checking the electrical fences yesterday I also took the opportunity to make nice pictures of the nursery group. Pundu and Dian were far behind: they were standing just in front of my camera bag and you could see in their eyes that they were plotting something…
Pundu is extremely curious, gentle but can sometimes be full of misschief!!! Dian is usually very quiet, solitary and we have never seen her in a plot. This time, they sat together ready to take something out of the bag and to have some extra enrichment for the day!
Pundu grabbed a wooden stick and tried to reach the bag…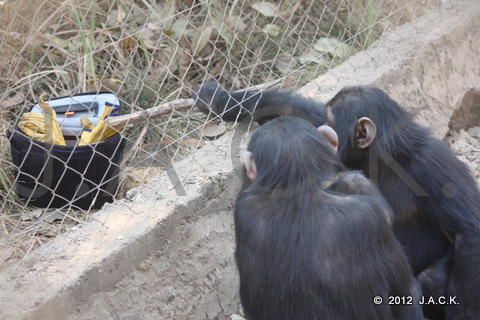 … of course, he had to look behind him to see where the dominant and his other friends were as I'm sure he didn't want to share his trove with the others…
Their plan actually didn't come out positively: Tika came to see twice what they were up to and Pundu had to abandon his stick and his wonderful ideas twice…
So sad the two youngsters didn't reach their goal, but on the other hand I was glad they didn't steal or ruin anything from my bag…