Hello Friends of JACK,
Although Santa (formerly called « Mapima » on the Web) and little Kimo have already finished their 3-month-quarantine-period, they haven't been introduced yet into the main enclosure .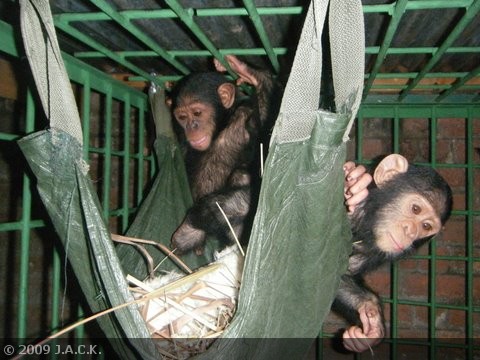 Santa (right) and Kimo in their quarantine enclosure
Some weeks ago, we tried to present them to Chita, Bachi and Shasa. It was positive.
Santa coming close to Chita's hand
Then, some other chimps of the group were added for presentation and Santa already showed signs of fear…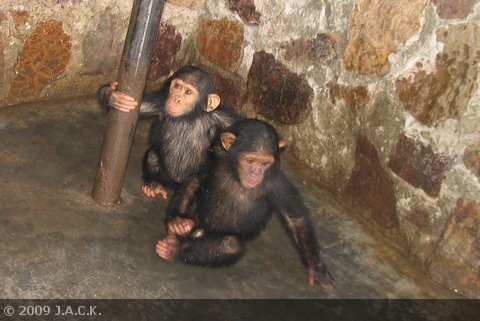 Kimo & Santa in the presentation enclosure
We didn't want to rush them and presentation took some time. Bachi and Maya were the two chimpanzees of the main group who really protected the two little ones against a few rough ones….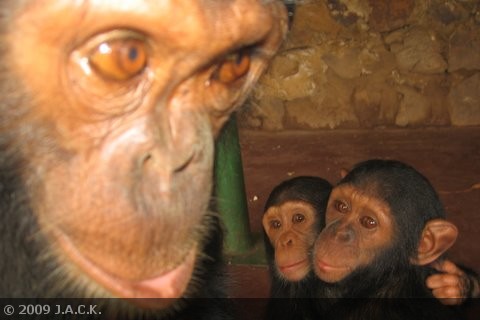 Maya keeping an eye on the 2 new ones
At least, D-day arrived for Kimo and Santa to stay with the group into the main enclosure. Franck stayed with them but couldn't leave them. Santa actually refused any contact with the elder females and was very aggressive. Kina, one of the females, maybe upset by Santa's aggressiveness, grabbed her by the left ankle and ran away with Santa crying and shouting… Santa was taken out of the main enclosure; she had been bitten on the lower lip.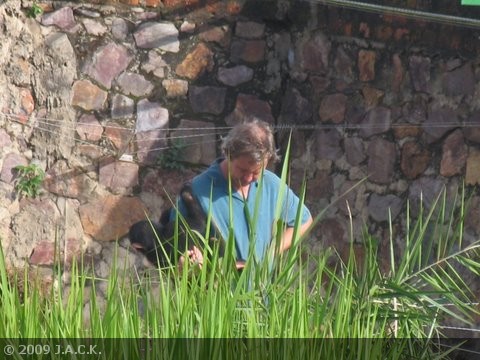 Franck in the main enclosure holding Kimo in his arms
Kimo stayed a bit longer in the group and dared walking around. Unfortunately, one of the young males (Wimbi) bit his right ear and Kimo showed such stress in his eyes Franck decided to stop everything…
Today, Kimo and Santa are still in the quarantine area as they apparently seem not ready to start a new life in the group. One positive thing though: both get on very well with Africa, Dian, Pasa and little Maïka and all love to play in the open air quarantine place…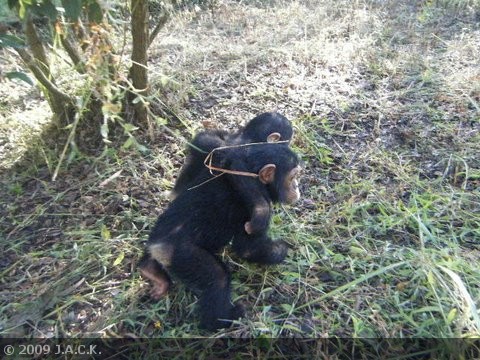 Roxane