Hello dear Friends,
This time, I'll talk about an association called « Little Jak » which was created in 2006 just after the fire/sabotage that killed two of our baby ones.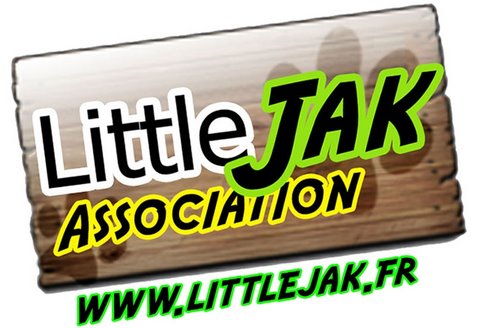 Little Jak is located in France, not far from Lyon, and is run by Mr. Thivillon Pierre, the CEO of a Zoological park known for its gorillas: the Espace Zoologique de Saint-Martin-la-Plaine.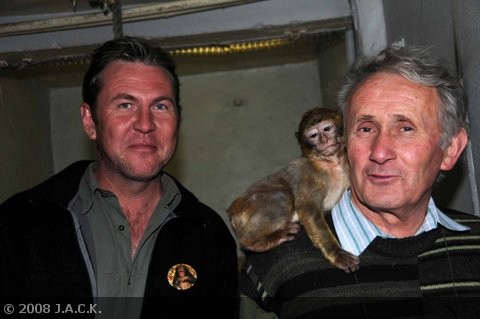 Franck & Pierre Thivillon
The aim of Little Jak is to collect funds for the orphans of our JACK Refuge, DRC. Funds are transferred regularly to Lubumbashi and very often we receive parcels from Little Jak full of interesting things: nappies, milk, milk bottles, teets, medication, etc.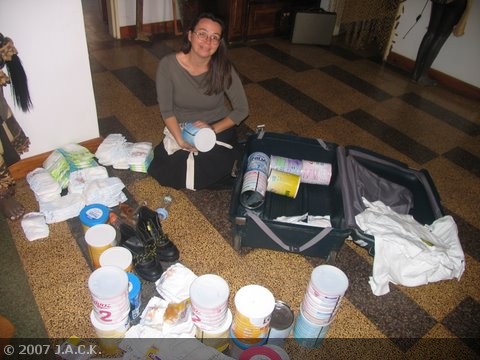 My husband has always had good contacts with Mr Thivillon. When Franck was a little boy, he visited the gorillas of Saint-Martin-la-Plaine nearly every week and in some ways, these meetings with Mr Thivillon developed his passion for Great Apes.
Today, Little Jak and its team is working very hard and we do thank each of them for the good work! Merci à toutes et à tous pour votre dévouement!
Some of the members deserve to be known.  This is the case of two new and precious members of Little Jak: Carole and Hakim, a young couple very determined to make things work out positively. Their wish to help Chita and his mates is so strong they very often spend sleepless nights.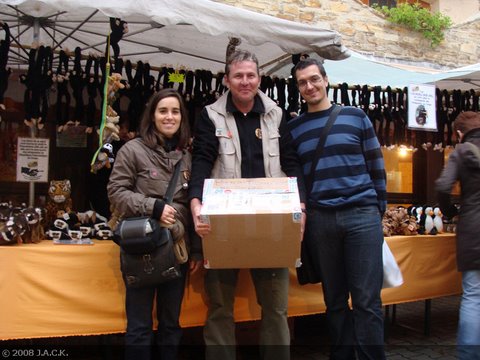 Last year, for instance, although Carole & Hakim still weren't members of Little Jak, they collected funds and managed to send JACK a big parcel full of medication. Merci Carole et Hakim. Sans vous, les choses ne seraient pas ce qu'elles sont aujourd'hui!
Patricia is also a good friend of JACK.  Her husband and herself are fond of primates and have been with us for nearly two years now! It's thanks to Patricia that PASA has now his hair growing back because she has recently sent us tablets. Merci à vous deux, Paty et Eric, pour être à nos côtés et pour nous encourager!!!
Of course, we thank the Park of Saint-Martin-la-Plaine and its team!!! But, we mainly thank Mr Thivillon and his wife, Eliane, to assist us as much as they can. They have done so much for JACK!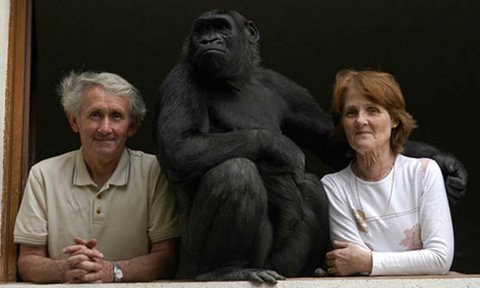 Merci de nous soutenir, Pierre et Eliane, et surtout de nous encourager et de nous faire confiance. Votre soutien nous est précieux!
Little Jak has a website telling how they started and how they help JACK/DRC. But their new website is coming soon and I'll keep you posted once it is ready!
Before ending, JACK wishes to thank all the members of Little Jak Association as well the the different people who have adopted some of the JACK chimpanzees. Their adoptions represent a great support to our Congolese NGO and I couldn't speak about Little Jak without mentioning their participation to our Cause… Merci à vous tous, vous les membres, Parrains et Marraines qui participez au bon développement de notre Cause… Sachez que nous vous sommes reconnaissants pour tout ce soutien tant moral que financier… Sans votre appui, nous n'y arriverions pas!
Roxane