Dear All,
Yes, again, some pictures of the latest chimps handed over to J.A.C.K. We have named them 'Bapu' and 'Pundu' as in our local Swahili language « bapundu » means « twins ». Of course they aren't twins. But we called them such way because they arrived together.
Bapu is the female. She's very quiet and likes to be on her own. She never demands to be hugged nor cuddled but really enjoys these precious moments once you hold her in your arms. Also, Bapu is eating all the time. She can't sit still and always needs to chew on something!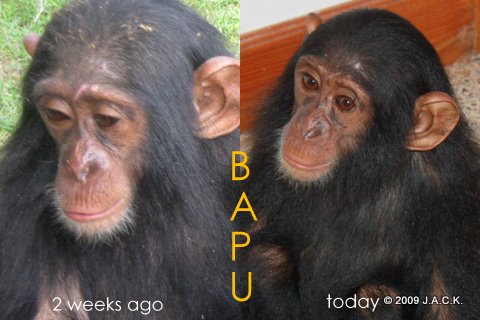 Pundu is full of life now compared to the first days he was with us. He's playfull  -even bully!- and jumps onto you to get a hug. His eyes are still a  slightly swollen, but this sometimes takes time to fade…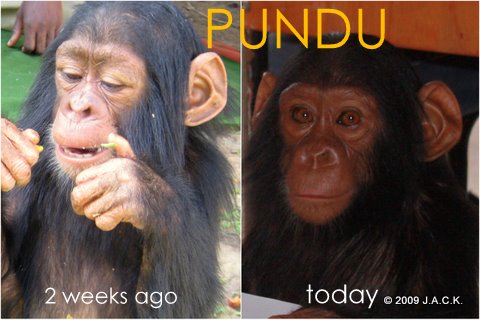 We were allowed to keep these two at home as they were in a poor state physically and mentally. But once they'll get better and a bit stronger, they'll go to the Refuge.
[kml_flashembed movie="http://www.youtube.com/v/tc8NgRyIvQY" width="425" height="350" wmode="transparent" /]
Roxane