Dear All,
First, Franck, the chimps of J.A.C.K. and myself wish to thank the very kind people who have donated on Wildlife Direct to help:
Frances B. USD28.75  
Gail S. USD11.00
Daniel R. USD230.00
Rebecca R. USD200.00
Kinzli C. USD210.00
Wanda H. USD28.75
Kara N. USD17.25
Isabelle V. USD23.00
Tanguy L. USD57.50
Kevin C. USD22.00
and to Theresa S. USD150.00 and to Amy M. USD11.00 who participated earlier this month.
YOUR CONTRIBUTIONS WILL HELP THE ORPHANS OF OUR REFUGE A LOT! This money is meant to build extra facilities as to provide the best conditions to these orphans. THANK YOU for your generosity! THANK YOU FOR BEING WITH US!
MERCI A TOUS CEUX QUI ONT ENVOYE UN DON POUR LA CREATION D'UN ENCLOS SUPPLEMENTAIRE ET SACHEZ QUE CES ORPHELINS VOUS SERONT ETERNELLEMENT RECONNAISSANTS! GRACE A VOTRE SOUTIEN, ILS AURONT PLUS D'ESPACE ET DE MEILLEURES CONDITIONS! MERCI ENCORE…
Unfortunately, a new chimp may arrive soon; which will make 7 chimps in 7 weeks! We really need to have this new quarantine facility built! Cost is estimated at USD 10.000. So, we absolutely ask your support to continue. Know that, if J.A.C.K. can't accept any other arrival because of a lack of space, authorities won't have any other place to put the confiscated animals and won't confiscate any more…Poaching will be at it's worst! This isn't the aim we expected to reach when J.A.C.K.  started 3 years ago….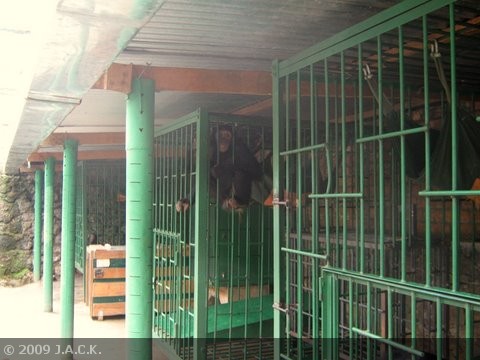 our quarantine area is nearly full!
What about the 3 recent newcomers? Tika? Bapu? Pundu?
Here are the pictures of the latest chimps who have been handed over to J.A.C.K. on the same day:
– Tika (a young male of about 3 years old)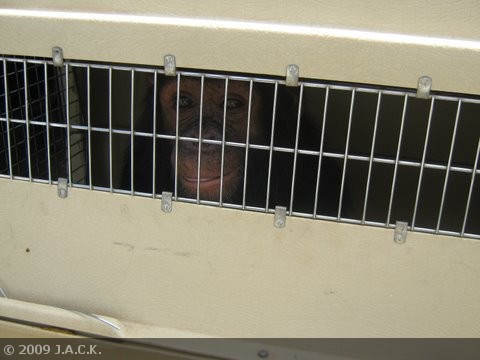 – Bapu (baby female) and Pundu (baby male)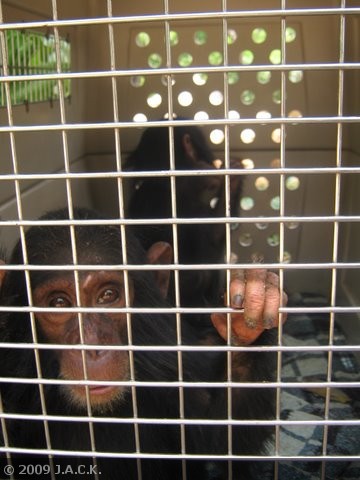 Tika is now in the quarantine of our Refuge. He is doing fine, vocalises a lot with the other chimps of the Refuge and has a real good heart.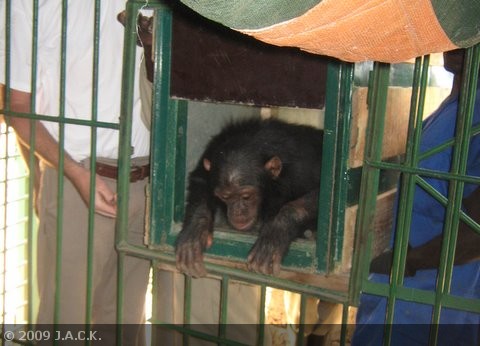 Tika in quarantine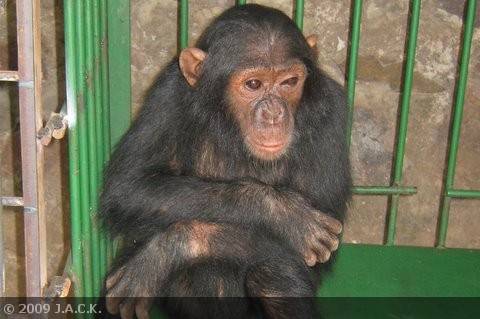 We had to start treatments at once as this young male was full of parasites (mainly tape worms!). Below with Mama Maguy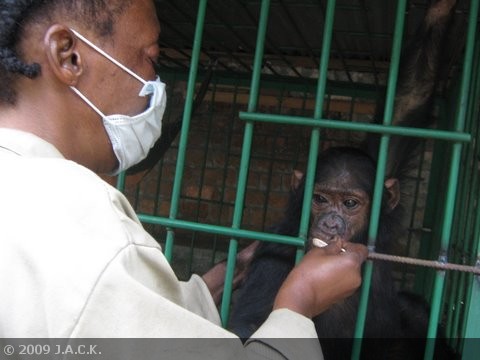 Bapu & Pundu are at my place as they both were in a very bad condition. We believe that they would have died in the coming week as both were so weak, traumatised, dehydrated and full of parasites too!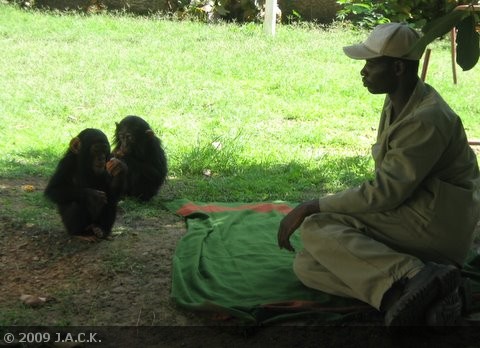 Today Bapu & Pundu are settling in and it will surely take some time. They both weigh less than 4 kg and you only hug bones once you want to cuddle them.
Since their arrival, both have put on weight (150 grams each) and I still hope they will continue progressing in that way.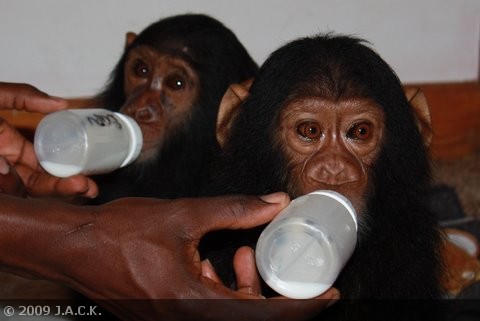 Together with Papa Augustin, I keep an eye on them 24 hours a day!
 [kml_flashembed movie="http://www.youtube.com/v/U6B0WuJhpQo" width="425" height="350" wmode="transparent" /]
Their face and behaviour is already completely different than from the day they arrived and it is obvious both Pundu and Bapu feel confident again…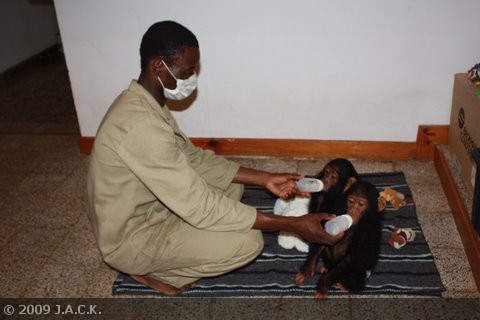 Roxane