Dear All,
I know, I haven't updated on Tommy recently and maybe it is because each time I say the wound is healed, infection starts again…
Tommy wasn't actually doing so well early last week: he started flu, had a runny nose and fever got higher and higher…. The weather is now changing and winter is on its way: the sky is blue, the sun is shining but nights and mornings are chilly…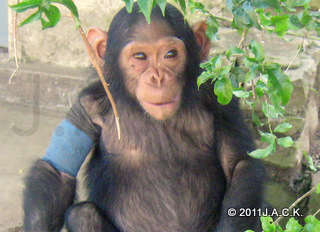 Because of the flu, Tommy got extremely weakened, his immune system was very down and his eyes were swollen for 3 to 4 days…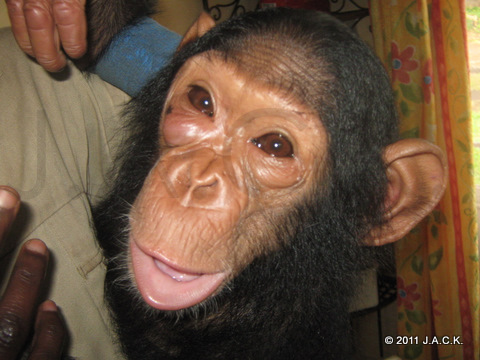 The right eye has a link with the infection in Tommy's right arm: each time infection comes up, the right eye gets swollen, reddish and infected too… So, with Vet Jean-Claude we were very scared something else was coming up again….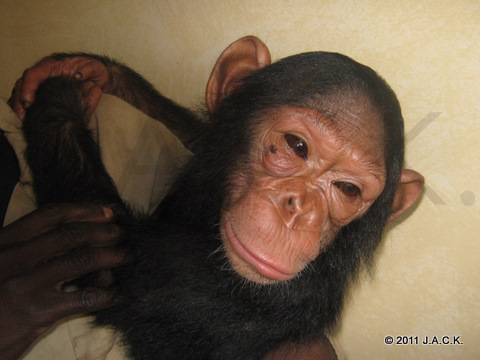 Therefore, we decided to keep Tommy indoors and to let him go and play in the garden when the weather was warmer…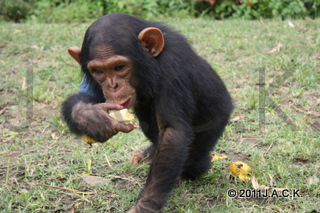 But today, one week later, little Tommy is doing a lot better: he's fine, no flu any more, he's again full of energy and is allowed to go and stay at J.A.C.K. where he can see and hear his chimp friends. We can't yet put him with the others as they tear away Tommy's bandage…
We all keep our fingers crossed the wound is now completely clean. It is closed up again but we can't get the bandage away otherwise Tommy will scratch his arm and might hurt the wound with his nails….
Thank You,
Roxane