Dear Friends
A new little one arrived a few days ago…
When driving back from her office, Thea, a friend of us,  had seen the little girl in the arms of a young Congolese man.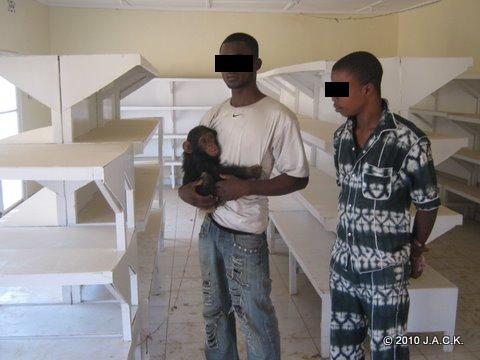 Authorities were informed immediately and in less than 18 hours  the baby chimpanzee got seized by the Minister of Environment himself, Dr Félix Kabange Numbi, who had called for the Police to assist him.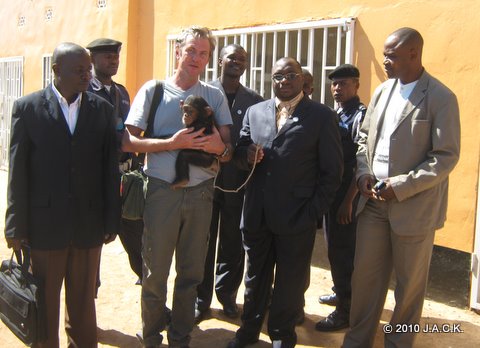 Television had been asked to come as well because the Provincial Minister wanted the event to be covered by the media to send extra messages on wildlife conservation laws.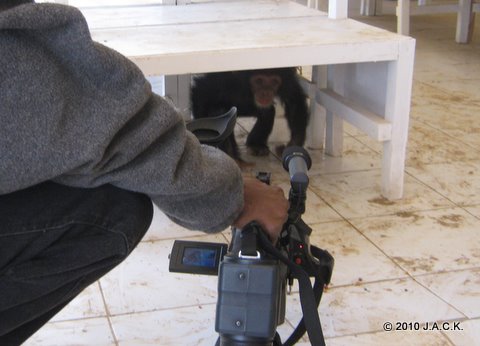 The owner of the chimpanzee was a Colonel of the Congolese army. A month ago, he had bought a document from the Ministry of Environment of the Maniema Province allowing him to capture and detain a baby chimpanzee for 'domestication'. This means that for 20 USD a whole chimpanzee family has been again slaughtered because of human cupidity and ignorance!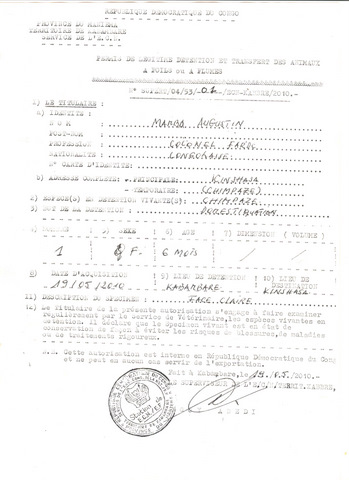 The baby chimpanzee was actually meant to be sold for an estimated 150 USD.  It's high time all that trade finds an end. Laws protecting Great Apes in the DRC exist. If even authorities do ignore these, wildlife throughout the country has no future!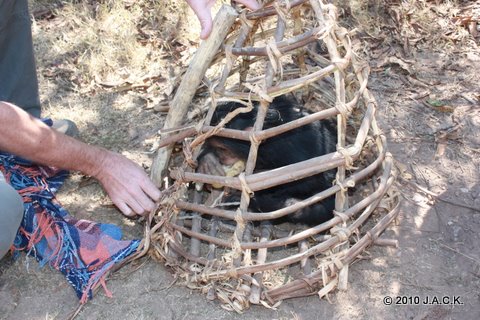 Although in rather good condition, this little female has an awful flu and antibiotic treatment was unavoidable. She has been named 'VIDA' which means 'life' in Spanish.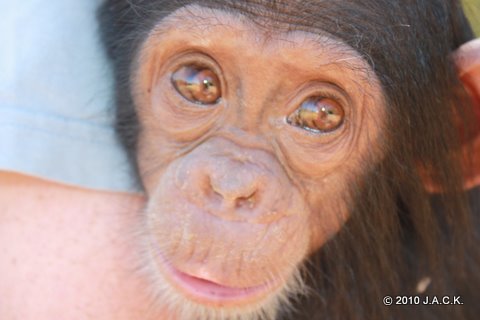 VIDA is now too small to stay in the quarantine of the sanctuary. It's too cold   (dry season!) and the isolation facilities are too big for this tiny little one who needs contact, attention and warmth. We are expecting an old container to arrive  that we are going to transform into a small nursery so that little ones no longer have to transit through my house….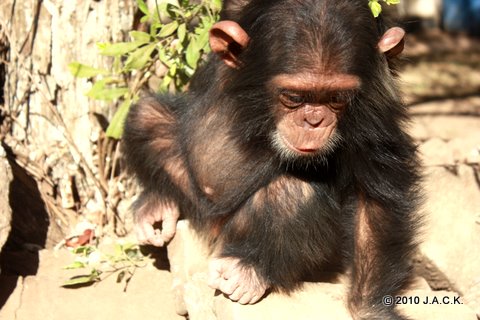 I'll keep you updated on VIDA's progress and adjustments. She's strong, very very stubborn (she knows exactly what she wants and even uses her canines to get it!)  and will make it for sure!
VIDA, 33rd chimpanzee handed over to J.A.C.K.
Before ending, thank you again Thea for having mentioned about this little one. Thanks to you, VIDA will now have the chance to enjoy a better life!
Thank you all,
J.A.C.K.