Hi Everyone,
Theresa has sent  the report on the latest donations (from April 10th till June 23rd) .
The chimps and bushbabies residing at J.A.C.K. wish to thank Tamela B(200 usd), Dana T(30 usd), Amy M(10 usd), Catherine M(200 usd), Amy M(10 usd), Fran B(25 usd), Oliver T(30 usd), Wanda H(20 usd), Brenton H(25 usd), Anna M(50 usd),  David F(15 usd), Wanda H(20 usd) and Amy M(10 usd) for their very kind and precious financial help.
The chimpanzees living at J.A.C.K. are getting bigger and stronger. Although J.A.C.K. is already thinking of that new land that needs to be fenced to set the chimps back into the wild, facilities at the Lubumbashi sanctuary must meanwhile be improved and built. Poaching AND trade unfortunately continue and new chimpanzees are arriving at J.A.C.K.  –  this is the case of VIDA, the latest newcomer, whose story will be narated in the next post !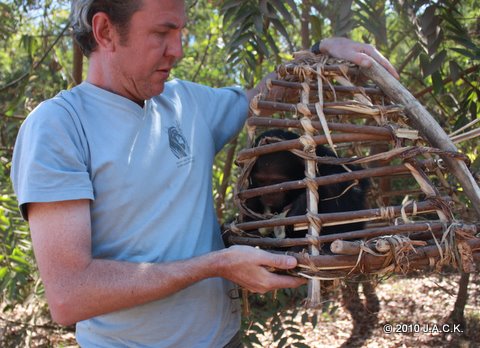 Whatever the amount, know that each donation is worth being made as the J.A.C.K. sanctuary is a small NGO living on donations. It is  employing 7 Congolese employees and is ran by 2 passionate volunteers: Franck & Roxane.
Your help goes straight to the welfare/comfort  of each resident of J.A.C.K.  (33 chimps and 5 galagos) and remember that the sanctuary needs your  financial support to continue its primary objective  which is to protect endangered species of the DRC.
Thank YOU !