Hi Everyone,
As already mentioned, the main constructions meant to improve the conditions of the JACK ape orphans  are finished.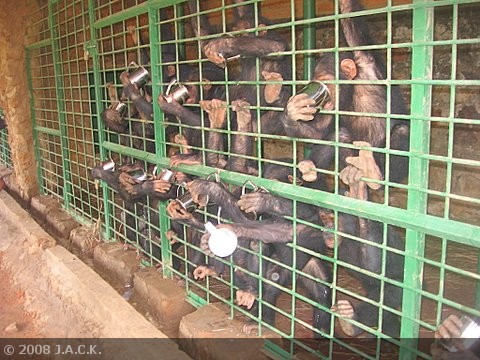 And the main group already enjoys staying in these facilities every night.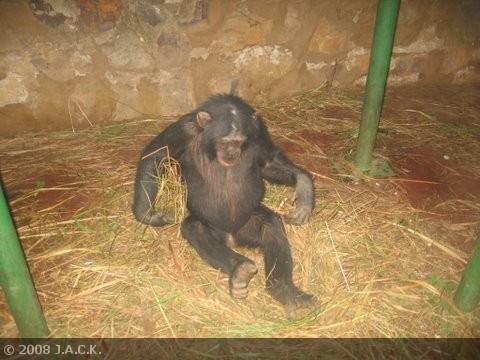 Chita building his nest (top) and Shasa ready to sleep (below)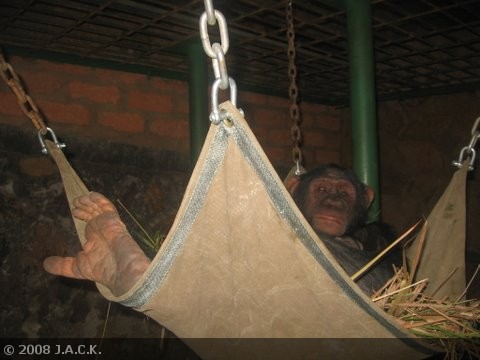 Our friend and member of J.A.C.K., Franck CHAMBON, who specially and voluntarily had come from France in order to build the new enclosures left a few weeks ago.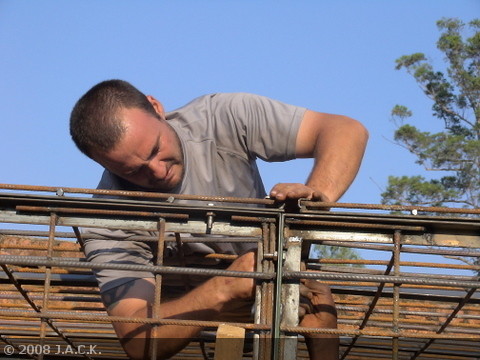 The chimps and ourselves are most grateful for all the good work he has done…. THANK YOU AGAIN, Franck!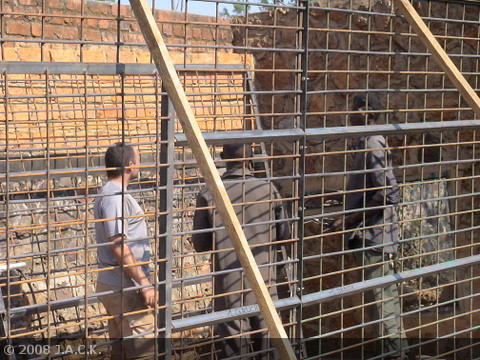 As to finalize the construction project, the Provincial Minister of the Environment, Madame Thérèse LUKENGE, recently inaugurated the new night quarters.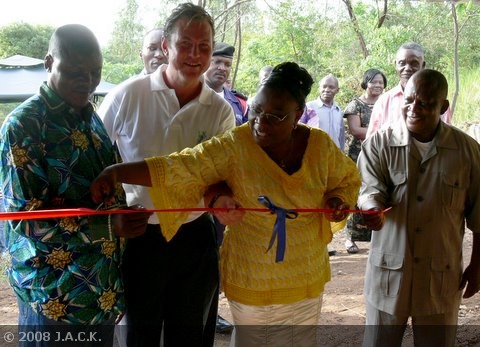 The media had been invited to cover this particular event…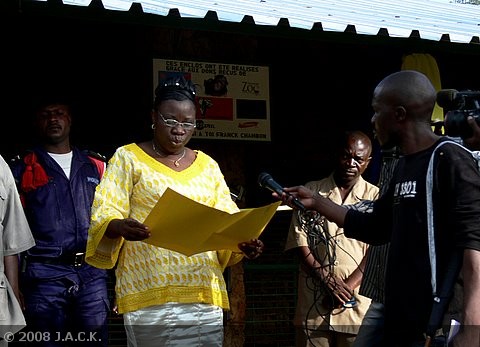 … and sponsors, friends, volunteers and friends of JACK were there as well.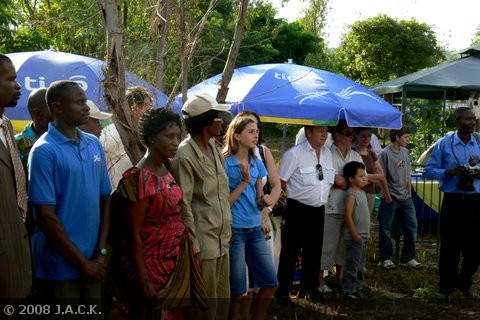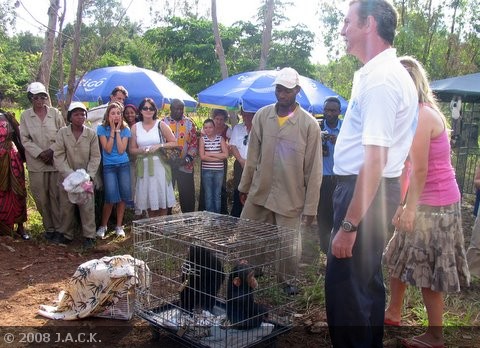 In her speech, Madame the Minister insisted on the fact that the DRC wildlife and fauna has to be preserved and protected. Mrs Lukenge cheerfully thanked JACK  for the work achieved.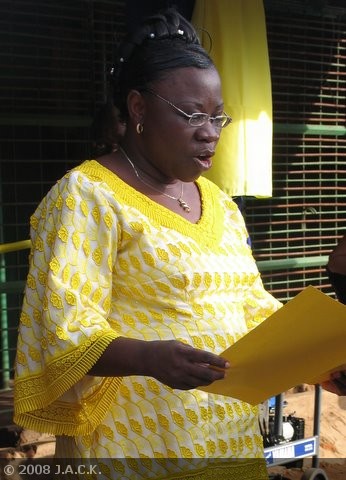 Also, Madame Thérèse Lukenge  publicly and officially handed over to the JACK Refuge the two recent chimpanzees that were seized last November by Congolese authorities (Kimo & and Santa/Mapima)  as well as the baby bushbaby confiscated two weeks ago by Lubumbashi inspectors of the Environment Department. (JACK started a bushbaby project some weeks ago and I will tell you more about this a another post)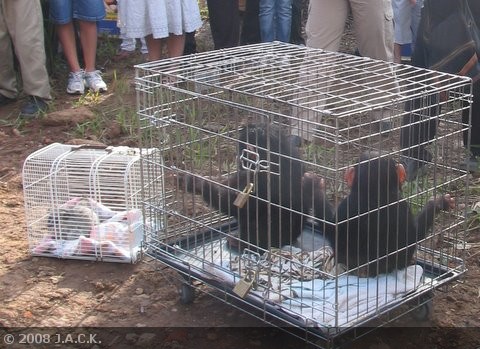 Kimo and Santa (right) were surprised to see so many people around…The bushbaby is on the left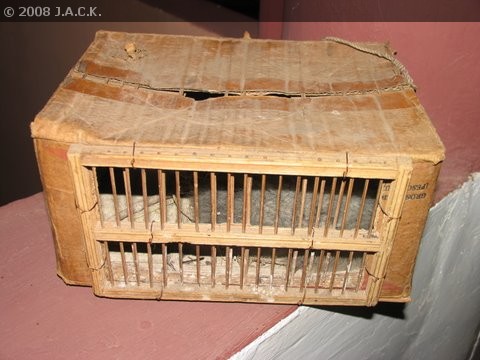 The bushbaby was for sale in this small litlle cage (top) and had a rope tightly fitting its left leg.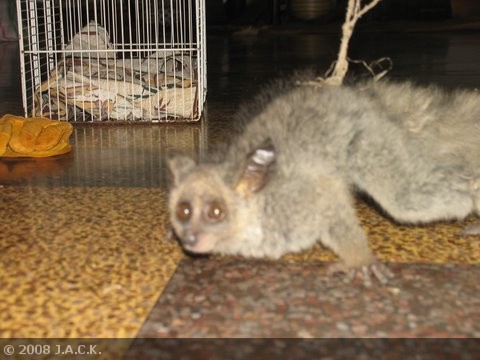 Franck and I had to carefully cut the rope to free the leg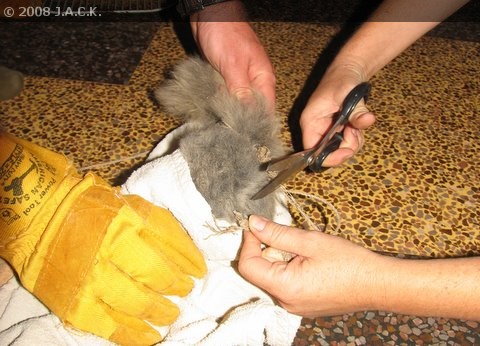 Before ending this post, JACK wishes to thank the PROVINCIAL GOVERNMENT OF KATANGA as well as the following companies and organisms for having made this enclosure project come through: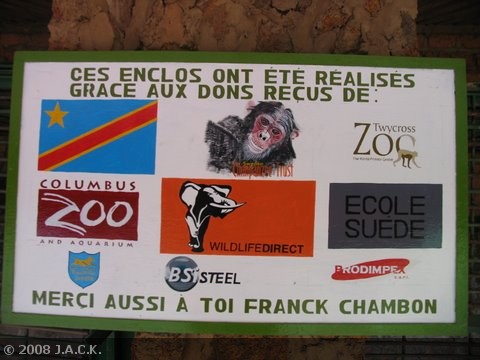 The SWEDEN CHIMPANZEE TRUST , the TWYCROSS ZOO, the COLOMBUS ZOO, WILDLIFE DIRECT, a SWEDISCH SCHOOL, the MANDEVILLE DOG CLUB, BSI STEEL and PRODIMPEX sarl.
THANK YOU AGAIN FOR THEM !!!!
Roxane