Dear Friends of J.A.C.K.
Sorry to write so late! Should have done so earlier, but as you can imagine, we are extremely busy!
As already mentioned, the orphan chimpanzees who arrived in Lubumbashi last Saturday from Goma had a safe journey.
[kml_flashembed movie="http://www.youtube.com/v/0hkzF3YxgUE" width="425" height="350" wmode="transparent" /]
These 4 babies seized by the DRC wildlife authorities have been transferred to the J.A.C.K. sanctuary thanks to the PAN AFRICAN SANCTUARY ALLIANCE (PASA)which totally supported transfer and will cover the 3-month-salary of the carer in charge of the babies (Faustin). Thank you for that, Doug!
Also,  other NGo's took part in the rescue operation:
– We'd like to thank the Africa Conservation Fund (ACF/Virunga) and the Dian Fossey Gorilla Fund International (DFGFI) for their help
– Thanks also to Gorilla.cd (thanks again, Sam!) and Mountain Gorilla Veterinary Project (MGVP) to have taken care of these orphans during their transit period in Goma. 
– J.A.C.K. also wants to thank the Congolese wildlife authorities (I.C.C.N.) for having saved and seized these infant apes from illegal traders.
Together with the J.A.C.K. refuge, these NGo's worked as a team ; each member of the team taking part actively in the operation and doing its best to save these young chimpanzees.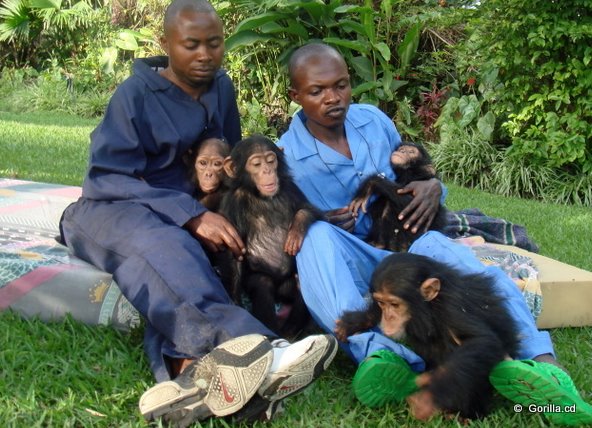 Faustin, Thierry and the 'Kivu Four' in Goma
Today, the 'Kivu Four' are at J.A.C.K. and all three have started adjusting to their new environment this also thanks to Faustin!!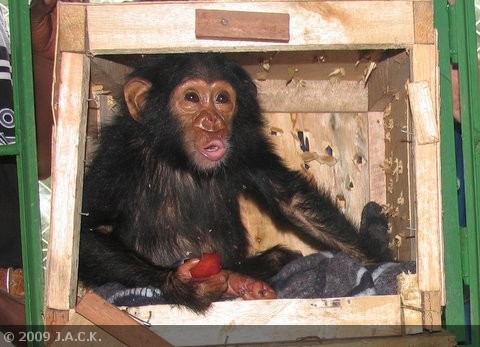 Mavivi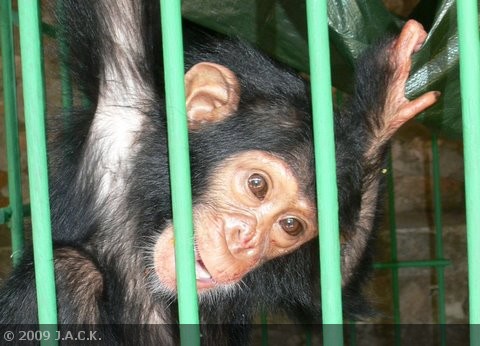 Etaito
The two females are ok and don't seem to be as traumatised as the young male who has lost almost all his hair. He is crying a lot and needs Faustin to stay close to him.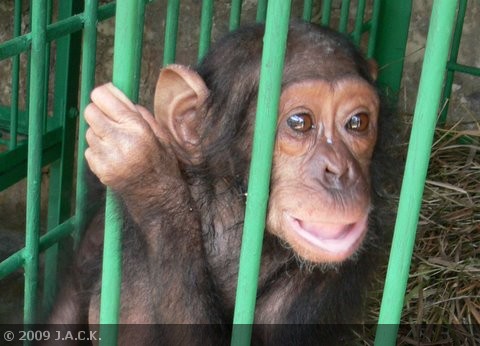 Udongo
Faustin is doing a real good job and we do appreciate his being here with us at J.A.C.K. We really trust him 100%!
During this first stage, the 3 will stay together in the isolation enclosure. Then, once settled, they'll go and play during day in the bushy quarantine open air enclosure where Santa and Kimo used to go…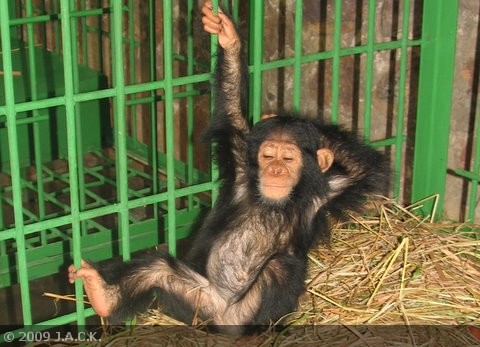 Etaito
These 3 are lucky to have survived all that pain. And this rescue operation that was set up clearly shows that different NGO's and some Governmental institutions can make the difference! In order to remember this particular partnership between this different NGO's and institutions, JACK has decided to change the names of the three babies.
Yes, because the ape infants we have welcomed are still very young, their names can be changed easily just the way we did with Santa who was known as « Mapima ».
So, Udongo is now « PASA », Etaito is « Dian » (Dian Fossey Gorilla Fund International) and Mavivi has become 'Africa » ( Africa Conservation Fund).
« Pasa » (Udongo)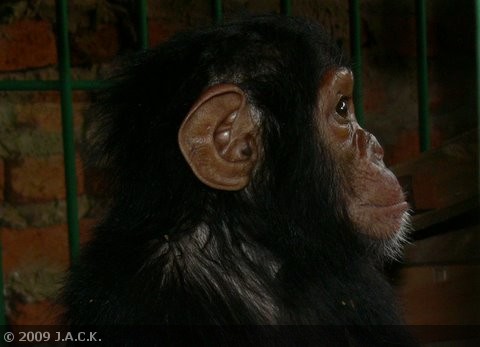 « Africa » (Mavivi)
But, what about Maïko? the little one who died?
Well, at JACK we have now Maïka. Look at the picture below: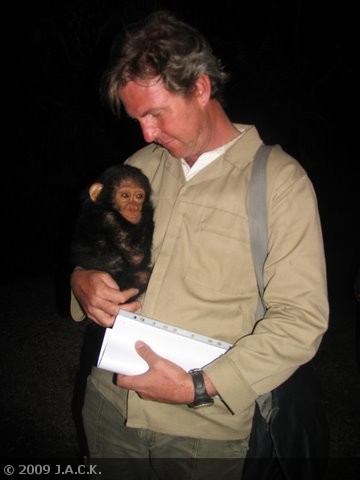 Last Saturday was a long day. Not only did we had that pressure and excitement of welcoming the 'Kivu Four', we also had the call of a friend saying she had seen a tiny chimp for sale on the Lubumbashi streets… Franck and I couldn't believe our ears as no new chimp had been traded in our city for the last 13 months… Imagine how disappointed and how bad we felt when the local authorities handed us the tiniest chimp we have ever had. Santa is extremely big compared to Maïka!!!
So, you see, the 'Kivu Four' were 4.  Then, they became 3 but a 4th baby has joined them… Maïko is still with us!
The J.A.C.K. family is getting bigger as illegal trade of protected specieskeeps on going… Someone sent us this a morning pictures of two more babies for sale in Northern Katanga. In two weeks, 7 baby chimpanzees have been seen and some confiscated by authorities…. This means that at least 70 chimpanzees were killed to get them out of the forest… 
 J.A.C.K.  needs you more than ever!!!
Thank you,
Roxane