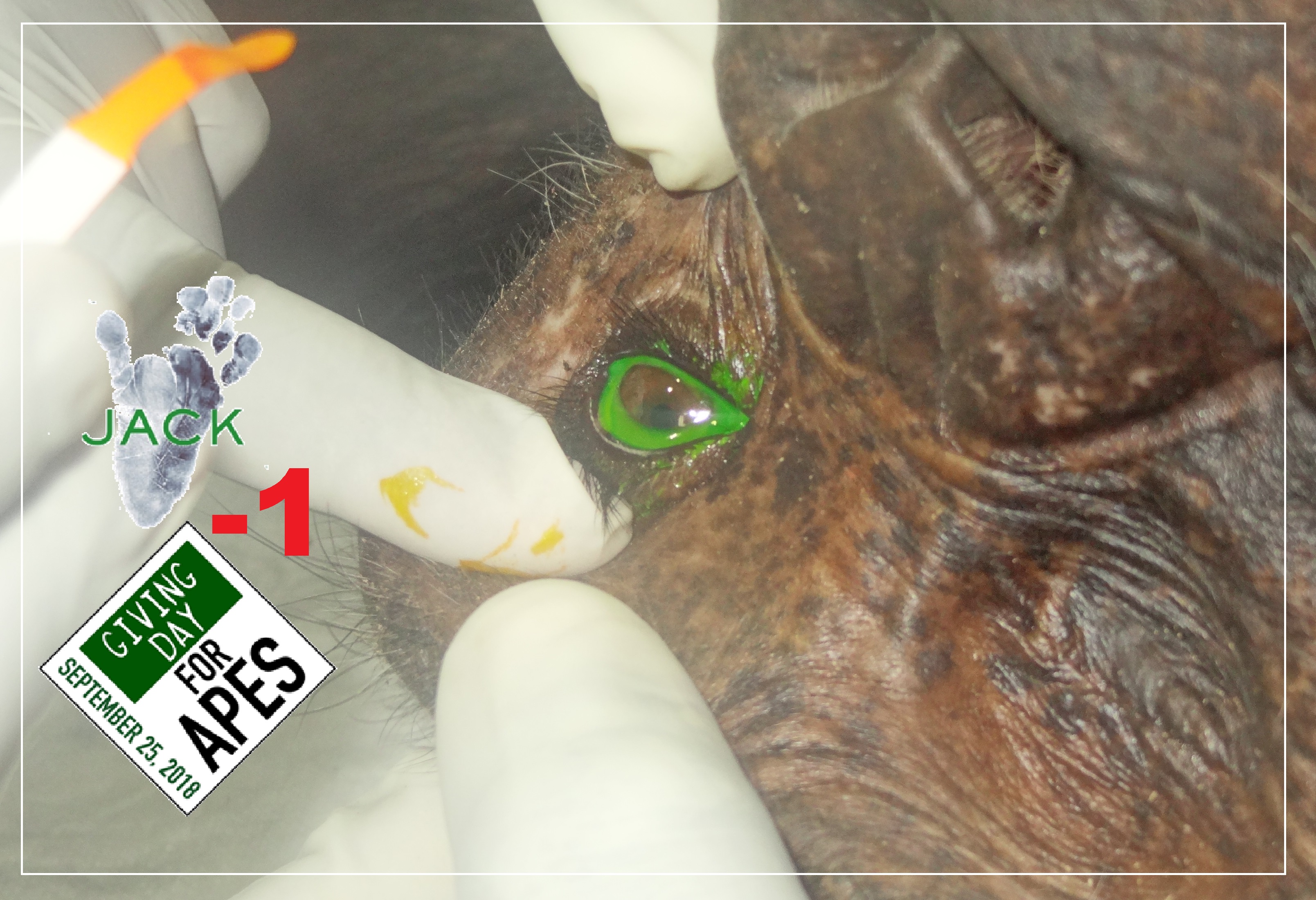 GIVING DAY FOR APES – 1 day to go!
DOGUY is our one-eyed resident to whom we have dedicated this year's GIVING DAY FOR APES campaign. Every single donation will help our sanctuary cover the different costs of this important surgery (cataract on his remaining eye!).
From the 16th of September on  till D-Day  of the GIVNG DAY FOR APES event(Sept.25) , we are going to tell you DOGUY's story and how he faced eye issues. These are the different topics we have already talked about to introduce DOGUY:
1/ How DOGUY arrived at J.A.C.K.
2/ How DOGUY adjusted to his life at J.A.C.K.
3/ Beginning of DOGUY's disease
4/Doguy a vulnerable chimpanzee
Keep in mind that this huge fundraising event will give DOGUY  the chance of not becoming blind.
Join our fundraiser here:
https://givingdayforapes.mightycause.com/organization/Jack-Congo
D  Day -1/ Cataract!
Since DOGUY seems to have eye issues often, it was decided to have regular eye check-ups on his remaining left eye.
This is how we discovered last February that DOGUY's eye was suffering from uveitis, keratitis and cataract. The two first diseases were cured by means of eye drops; DOGUY is ok with getting drops in his eyes!
However, you can't remove a cataract with eye drops! Qualified eye specialists and appropriate equipment are needed for this type of surgery. Because none of these could be found in the DRC, two South African veterinarians accepted to offer their knowledge and skills to save Doguy's eye! We hope this #GivingDayForApes campaign will help us collect the funds to prevent Doguy from becoming blind!